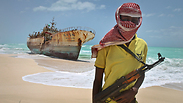 Former IDF elit unit soldiers secure ships across the world from Somali pirates.
Photo: Associated Press
Armed Israeli security guards thwarted an attempt by Somali pirates to a hijack a ship that was sailing to Israel on Tuesday. The ship was sailing with a foreign flag but had Israeli security guards on board. The ship continued on its way to Israel and will arrive in a couple of days.

The ship was carrying trade to Israel and had embarked on its journey a few days earlier from southeastern Asia by way of the Suez Canal.

The incident occurred at the entrance of the red sea, at the Strait of Bab el Mandeb, a region swarming with pirates who seek to takeover ships and extort a hefty ransom.

Three armed pirate ships began to sail close to the walls of the ship with the Israeli guards on board.

When the pirates noticed the armed Israeli security guards onboard the ship they retreated and called for reinforcements.

Another pirate ship arrived and the pirates made a second attempt to sail close and board the ship, at which point the Israeli security guards threatened to use their weapons and the pirates retreated.

There were no reported uses of weapons by either side.

A report of the incident was sent to the Israel Ministry of Transportation, which applauded the Israeli security guards on the ship.

Sources from the Ministry of Transportation said the Israeli security guards achieved their goal and prevented a takeover attempt of the ship.

Israeli security companies have conquered the shipping security industry in the past couple of years. Hundreds of former IDF combat unit fighters secure foreign ships, both trade and commercial, from the threat of pirates.

The companies mostly employ alumni of the IDF's most elite units such as Sayeret Matkal and Shayetet 13.

The threat of pirates has increased in the past couple years, especially pirates from Somalia.