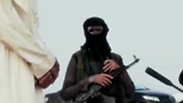 Militant from Ansar Bayt al-Maqdis
Five Egyptian soldiers were wounded and eight are missing after an assault by "terrorist elements" on a navy patrol boat off one of the country's Mediterranean ports, an Egyptian army spokesman said Thursday.

Brig.-Gen. Mohammed Samir said in a statement on his official Facebook page early on Thursday that four assault boats were destroyed and that 32 attackers were arrested.

Earlier, the official MENA news agency said gunmen from three boats fired at the naval patrol Wednesday north of the port of Damietta, prompting an exchange of fire. No further details were available.

Egyptian troops have increasingly come under attack from militants since the ouster of Islamist President Mohammed Morsi last year, though attacks at sea are extremely rare.

Two militant attacks in the Sinai Peninsula last month killed 33 security personnel, prompting the army to declare a three-month state of emergency in the surrounding areas and clear a security barrier along the border with the Gaza Strip.

Militant attacks have increased since July 2013 when then-army chief Abdel Fattah al-Sisi led an army ouster of elected Islamist President Mohamed Morsi following protests against his rule.

Security sources told Reuters the fire fight happened about 18 km (11 miles) north of the port of Damietta, 50 km west of the Suez Canal city of Port Said where dozens of commercial vessels pass each day.

Reuters contributed to this report.