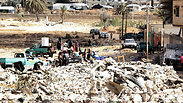 Demolition along Sinai-Gaza border
Photo: AFP
Two attacks by Islamic militants in northern Sinai left five policemen and soldiers dead on Thursday, Egyptian security officials said.

In both attacks, militants set up roadblocks and stopped vehicles with troops or policemen, said the officials. In one attack, near town of Sheikh Zuweyid, militants dragged three soldiers out of their car and killed them. In the other attack, two policemen were snatched from their vehicle near the border town of Rafah and shot to death.

The officials said victims in both attacks were off duty and in civilian clothes. The officials spoke on condition of anonymity because they were not authorized to speak to media.

Northern Sinai has been under the state of emergency since a militant attack on an army checkpoint last month killed over 30 soldiers there.

Egypt's government has been evacuating large numbers of residents along the Sinai-Gaza border in order to demolish homes and create a security buffer zone.

The Egyptian militant group Ansar Beit al-Maqdis pledged allegiance to Islamic State leader Abu Bakr al-Baghdadi recently, joining a growing number of jihadist groups outside of Syria and Iraq who've offered their support to the self-declared caliphate.
Car bombs target embassies in Libya
Meanwhile, car bombs targeted the Egyptian embassy and that of the United Arab Emirates in the Libyan capital on Thursday, causing some damage to the buildings, long-shuttered in the wake of violence roiling Tripoli.
No one was hurt in the near-simultaneous explosions that rocked the city's upscale neighborhood housing foreign missions, officials said.
Both the Egyptian and the Emirati embassy, along with most diplomatic missions, foreign and international organizations have been closed for months as Islamist-allied militias seized Tripoli after weeks of fierce fighting.