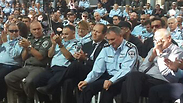 The ceremony in Jerusalem
Photo: Omri Ephraim
An air of uncertainty hung over a police ceremony in Jerusalem Thursday, reflecting the unpredictable events that continued to unfold in the city. Interior Security Minister Yitzhak Aharonovich laid out a pessimistic scenario in which terror attacks in the capital would continue.
"This is a difficult period of popular terrorism," he said, "and I assume there will be further incidents and attacks. I hope not, but I assume so. The determined response that has been given is correct. I see a decrease in the number of incidents, but there are still some, mainly in the 'Seam Zone'.
"The Temple Mount is the focus. There will be no compromise on the Temple Mount, and we will preserve the status quo. We won't allow this or that extremist to change the status quo. We will restore quiet and a sense of security. There's no other way. We will be victorious in this campaign."
Police Commissioner Yohanan Danino also spoke at the ceremony. "Our goal is to restore quiet," he said. "Following the increase in the number of security incidents, we launched Operation Guardian of the Walls, which will continue until we see the change, which we are already beginning to see."
Incoming district chief Moshe Edri said that "the riots that broke out a few months ago demanded a concerted effort. It's no secret that since entering my position, I haven't had an hour of peace. Being commander of the Jerusalem district during this time is a great privilege."
Outgoing chief Yossi Parienti commented as well. "Unfortunately, the riots and attacks have continued over recent days. I believe with all my heart that if events at the Temple Mount settle down and extremists from both sides are dealt with, quiet will be restored – even if it takes a little time."
Mayor Nir Barkat addressed the tensions in the city. "We must continue relentlessly in the path we have begun. Introducing new technology and cooperation – these are the keys to success," he said.
Rioting continues
Riots in Jerusalem continued to gain momentum on Thursday. Dozens of masked men threw stones at police and border patrols at the eastern edge of the Issawiya neighborhood in East Jerusalem. No casualties were reported, and security forces dispersed the rioters.
The police ceremony marked the replacement of the Jerusalem District's Police commander. Officer Moshe (Chico) Edri was formally ordained in place of outgoing chief Yossi Pariente.
Edri, a married 47-year-old with three children, served in several staff and command positions in the police. In the IDF, he served as Deputy General of the Golani Brigade. He joined police unit 33, where he acted as an officer in the operations division.
During his 23 years in the police force, Edri had several different roles, including Tayibe station commander, Kfar Saba station commander, the Etgar (vehicle theft prevention) unit's commander, Yiftach region commander, and Yarkon region commander. He also served as a security secretary for the internal security minister and commander of traffic police.
Parienti made a surprise announcement of his resignation and decision not to run for commissioner at the end of September. After the announcement, sources explained that the resignation was for personal reasons. "After months of debate, I decided that I don't want to run for the office. It was clear that after this job, it was right to resign after 26 years of service," Parienti stated.