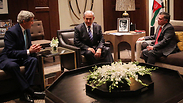 Kerry and Abbas
Photo: EPA
Prime Minister Benjamin Netanyahu, US Secretary of State John Kerry and Jordan's King Abdullah II met Thursday evening in Amman, Jordan to discuss rising tensions in Jerusalem, and vowed to work to deescalate tensions. Meanwhile the police said entrance to the flashpoint site will be unrestricted Friday.
In a press conference held after the meeting, Kerry and Jordanian Foreign Minister Nasser Judeh said all sides had agreed to take "practical steps" to deescalate the situation. Kerry also said that the sides had spoken to Egyptian President Abdel Fattah al-Sisi, who said Egypt was willing to work to help Israel and Palestinians to reach peace.
Video: Reuters (צילום: רויטרס)
Earlier Kerry met separately with Palestinian President Mahmoud Abbas in Jordan on Thursday and spoke about the possibility to renew relations with Israel. Abdullah accused Israel of "repeated attacks" on holy sites in Jerusalem and said they must stop.
"Abbas and I discuses constructive steps – real steps… people can take to deescalate the situation and create a climate to move forward. Abbas restated his firm commitment to non-violence and made clear he would do anything possible to restore calm," Kerry said at the press conference.
"In the trilateral meeting we discussed specific and practical actions that both sides can take to restore calm. The Jordanians and the Israelis have agreed, the Jordanians as the historical cushioned of the Haram al-Sharif (Temple Mount), and the Israelis have worked to… make sure they deescalate the situation and that the steps they take will instill confidence the status quo will be maintained," Kerry said.
"There are firm commitments from (Jordan) and Israel that they will take these steps," the secretary said, adding that "Netanyahu strongly restated his commitment to maintain the status quo to prevent further escalations."
A senior diplomatic source spoke to Ynet and said the meeting between Kerry and King Abullah lasted three hours, and included direct meetings between Kerry and Netanyahu, as well as Netanyahu and the king, in addition to the trilateral meet.
Netanyahu reportedly said that there was a need to stop incitement and fabrication regarding Israel and the Temple Mount which he said were the source of violence. The source said Netanyahu vowed to maintain the status quo but also said Israel would continue to protect its citizens, and urged local leaders to work for calm and stop incitment.
Regarding peace talks, Netanyahu said that a diplomatic process was important, but was incongruent with irresponsible incitement against Israeli citizens.
The Egyptian Presidential office said that Sisi was being updated on the occurrences of the meeting between King Abdullah, Kerry, Netanyahu, and said Sisi was informed of the solutions offered to calm the situation in Jerusalem and maintain the status quo at the Temple Mount, known as al-Aqsa mosque to Muslims, in order to avoid further escalation of the situation.
Meanwhile, Israel police said restrictions on the age of worshippers at the Temple Mount would be lifted for Friday prayer. Furthermore, the barricades blocking the path from the Arab neighborhood of Isawiya in Jerusalem to the French Hill were lifted following a meeting between Secretary Kerry, Prime Minister Netanyahu, and King Abdullah in Amman on Thursday evening.
צילום: לע"מ
Meanwhile, Kedma unit police closed Route 444 near the Arab town of Tayibe in central Israel on Thursday evening after reports of stone throwing in the area. No injuries were reported.
Israeli police requested drivers to abide by law enforcement instructions in the area.
Ahead of the top US diplomat's meetings in Amman for talks focused on rising tensions in East Jerusalem, police clashed with Palestinian demonstrators in the city's Issawiya neighborhood and other locales.
Around 100 residents, among them schoolchildren, tried to block the main road in protest after police blocked off several of Issawiya's entrances with concrete blocks. Police fired tear gas, percussion bombs and rubber bullets to break up the rally.
Months of unrest have escalated in recent days, spreading from East Jerusalem to the West Bank and Arab communities across Israel, and raising fears of a new Palestinian uprising.
'Red line'
The meeting between Abbas and Kerry, who arrived in Jordan late on Wednesday, comes a day after Israel approved plans for another 200 settler homes in a neighborhood of East Jerusalem, a move sharply criticized by Washington.
Much of the unrest in Jerusalem has been fuelled by religious tensions at the Al-Aqsa mosque compound, a site holy to both Muslims and Jews.
The Palestinians have been deeply angered by a campaign by far-right Jewish fringe groups to secure prayer rights at the shrine, although Israel has repeatedly stressed it has no plans to change the decades old status quo, under which Jews can visit but not pray there.
Abbas's spokesman said he would tell Kerry of the Palestinians' growing concerns over Israel's actions, particularly in Jerusalem.
"The Palestinian position will be made crystal clear: the Israeli violations are a red line and cannot be tolerated - especially with the tension and Israeli escalation in Al-Aqsa and Jerusalem," Nabil Abu Rudeina told AFP.
'End provocative acts'
In a letter to the UN Security Council sent on Wednesday, Palestinian ambassador Riyad Mansour demanded international intervention.
"The flagrant disrespect for this holy site and for Palestinian worshippers, marked by daily incursions into the compound... must be taken seriously by the international community as they are stoking religious sensitivities and aggravating tensions, with the potential to spiral out of control," he said.
Clashes at the mosque compound have drawn sharp criticism from both the Palestinians and Jordan, which has custodial rights at the shrine.
Ahead of Kerry's arrival, King Abdullah met Abbas in Amman for talks in which he expressed his "total rejection" of Israel's "repeated aggressions and provocations in Jerusalem," a palace statement said.
In a move likely to further heighten tensions around the compound, Public Security Minister Yitzhak Aharonovitch said late Wednesday he would introduce metal detectors and facial-recognition technology at the entrances.
"We'll increase the supervision of people entering the compound, both Jews and Muslims," he said. Metal detectors were removed from the compound's gates in 2000.
The US State Department sharply condemned Israel's announcement of 200 new homes in the East Jerusalem neighborhood of Ramot.
"We are deeply concerned by this decision, particularly given the tense situation in Jerusalem," said spokeswoman Jen Psaki.
Middle East Quartet envoy Tony Blair urged Israeli and Palestinian leaders to call for restraint and "an end to hostile and provocative acts", including settlement construction.
UN chief Ban Ki-moon demanded both sides do everything possible "to avoid further exacerbating an already tense environment".
AFP and Reuters contributed to this report