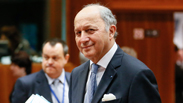 French Foreign Minister Fabius
Photo: EPA
France called on Israel to "immediately" reverse a decision to approve the building of 200 new settlement units in East Jerusalem, a move it said directly threatened a two-state peace solution.

"The decision by the Israeli authorities approving the construction of 200 new homes in the Ramot settlement again directly threatens a two-state solution," French Foreign Ministry spokesman Romain Nadal said.

"We call Israel to immediately go back on this decision at a time when everything should be done to stop the escalation (in violence) and relaunch the peace process," Nadal said in an unusually strong statement.

The new housing is slated for a sprawling hillside complex of apartment buildings and private homes at the northern edge of Jerusalem, on land Israel captured in a 1967 war and annexed to the city in a move never recognised internationally. Palestinians want this territory as part of a future state.

French lawmakers are set to hold symbolic parliamentary votes over the next month on whether the government should recognise Palestine as a state, a move likely to anger the Jewish state.

The non-binding but highly symbolic vote would follow a similar vote in the British parliament and after Sweden announced it formally recognised the state of Palestine.

A draft of the proposal states that the lower house National Assembly "invites the French government to use the recognition of the state of Palestine as an instrument to gain a definitive resolution of the conflict".

France will "obviously at a certain moment recognise the Palestinian state," Foreign Minister Laurent Fabius told AFP on Saturday.

"The question is when and how? Because this recognition must be useful for efforts to break the deadlock and contribute to a final resolution of the conflict," added Fabius.

British lawmakers voted overwhelmingly on October 13 in favour of a non-binding motion to "recognise the state of Palestine alongside the state of Israel as a contribution to securing a negotiated two-state solution".

Sweden announced on October 30 it officially recognised the state of Palestinian, a move criticised by Israel and the United States.

The move by Sweden's new left-leaning government reflects growing international impatience with Israel's nearly half-century control of the West Bank, east Jerusalem and its blockade of the Gaza Strip. It also comes during increased tensions between Arabs and Jews over Israel's plans to build 1,000 housing units in east Jerusalem.