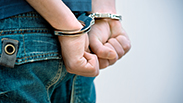 Illustration
Photo: Shutterstock
Two Palestinian minors were indicted this week for attempting to commit a terrorist attack at the Samaria military court in the West Bank, which was thwarted at the last moment by a vigilant policeman.

According to the indictment, the two minors from Nablus arrived at the military court in the Salem detention camp near Megiddo, carrying makeshift explosive devices on their persons.

The two were planning on committing a terrorist bombing as revenge for the killing of Palestinians from IDF fire.

They planned on killing the three judges that resided over the court, as well as soldiers and officers in the base, according to the indictment.

The two arrived at the court in the late afternoon hours to find the court was adjourned and the security check at the entrance was closed.

One of the defendants, the indictment stated, placed the bag containing the explosive device on the floor. This raised the suspicion of a policeman at the scene, who arrested the two.

One of the suspects said in his questioning that he planned the attack and assembled the bombs himself. The other minor joined his friend at the last minute to help him execute the attack.