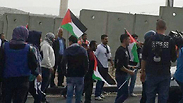 Palestinians gather at Hizma square
Amid hightened tensions in Jerusalem after Israel decided to lift the age limits on men allowed onto the Temple Mount for Friday prayers at the al-Aqsa mosque, some 150 of Palestinians crossed the border fence in the Qalandiya area on Friday in a protest against the separation wall, following a call from the Popular Resistance Committees to arrive in Jerusalem.
In Umm al-Fahm on Friday afternoon, some 1,500 people protested the shooting of Khair Hamadan by Israeli police. The protest was also attended by MKs Hanin Zoabi (Balad) and Afu Agbaria (Hadash) and the head of the northern branch of the Islamic Movement, Raed Salah.
Umm al-Fahn protest (צילום: מוחמד שינאווי)
The Umm al-Fahm protest, which started at the end of Friday prayers, were organized by political elements on behalf of the Arab parties, and by the Popular Resistance Committees.
In Hebron, 300 Palestinian rioters were hurling stones and setting tires on fire at IDF and Border Police troops. The forces used crowd dispersal means to stop the rioting.
In Kafr Qara, hundreds protested the incidents occurring on the Temple Mount.
The Palestinians protesters arrived at the part of the border fence that is a wall with makeshift bridges which they used to climb over the wall and enter Israel.
Meanwhile, some Palestinians cut the chain-link border fence by the nearby Atarot Airport and entered Israel through there.
In Hizma Square in Jerusalem, dozens of Palestinians were walking towards the border fence. They were blocking the road and waving Palestinian flags, even putting two of them on an IDF jeep.
According to one of the organizers of the protest, the protesters were able to surprise the army, as there were no Israeli troops waiting to stop them on the other side.
"As far as they're concerned, this is a protest against the separation wall and the prevention of West Bank residents of getting to Jerusalem," the organizer said.
In an attempt to confuse the Israeli security forces, the Palestinians called on social media for a march from Qalandiya, so the troops will wait for them at the Qalandiya border crossing and would not notice them crossing the fence elsewhere.
Shortly after crossing the border fence into Israel and achieving their goal of raising awareness of the separation wall, the protesters returned into Palestinian territory.
Hassan Shaalan, Yoav Zitun contributed to this report.