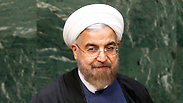 Iranian President Hassan Rouhani
Photo: EPA
Iranian state television is reporting that the country has inaugurated a new gold-processing plant that will double the country's annual production to 6 tons.
The report says First Vice President Ishaq Jahangiri attended the inauguration Saturday of the plant near Takab in northwestern Iran.
It says the new processing facility, built next to Iran's Zarshouran gold mine, also will produce an estimated 2.5 tons of silver and 1 ton of mercury a year. State television says Iran previously produced an estimated 3 tons of gold a year.
This is part of Iran's "economy of resistance" to counter sanctions imposed over Tehran's contested nuclear program. The
Islamic Republic is currently negotiating a final deal over its atomic program with world powers.
Tough sanctions put in place in 2012 have reduced Iran's oil exports by more than half from around 2.5 million barrels per day (bpd).
Iran's biggest oil clients - China, India, Japan and South Korea - imported 6.6 percent less in September than a year ago, the first on-year decline since December, but shipments rose back above the 1 million bpd mark allowed under the interim deal that eased Western sanctions.
Iran and the United States, China, France, Germany, Britain and Russia agreed in July to extend the initial six-month interim accord to Nov. 24 after they failed to agree a final resolution to their dispute before the deadline.
Tehran would have to curb its nuclear work to ensure it cannot be applied to weapons in exchange for removal of the sanctions that have hobbled its oil-based economy by cutting off the flow of payments for its crude exports.
Reuters contributed to this report