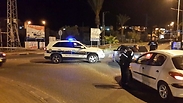 Tensions continued to mount Saturday evening in the village of Abu Snan a mere day after 41 Israelis were hurt in heavy clashes between Druze and Muslims Arabs. Police forces have deployed to the area fearing another flare-up in riots sparked by a dispute between local students.

Residents said that in midweek two Muslim students entered the Abu Snan high school wearing kaffiyehs and were confronted by two Druze students who asked them to remove the scarves. "You have no right to wear that here," they were told.




The two groups of students at the high school clashed in the wake of the incident. The school day was suspended and those in charge dismissed the students early. The school council was scheduled to convene in an attempt to calm tensions, but the meeting was delayed due to the overnight clashes.

The argument did not end on school grounds and continued to spread across the community. On Friday local residents traded curses against Druze and Arab women on Secret, an anonymous messaging application. The dispute worsened following the virtual exchanges, developing into physical clashes during the night.

A Muslim resident arrived by vehicle to a gathering, where witnesses claimed he attempted to run over the Druze residents, who pulled him out of the car and severely beat him. A fragmentation grenade was thrown into the crowd, wounding dozens of residents. Eyewitnesses claimed a Druze man had thrown the grenade.

An initial response by the regional council chair denied any connection between the clashes and the kaffiyeh dispute, but the families of the wounded objected to that version of events and claimed the riot was started due to the scarves and the students' wishes to protest the killing of Khair Hamdan by Israel Police.

In the afternoon hours, a Jewish man arrived with an Israeli flag and a sign reading, "I support our Druze brothers." He was harassed by Muslim residents, who urged him to leave. "Go away, have you no shame? If you do not leave, you will be next in line." Police asked the protester to vacate the area.

Abu Snan, with a population of 13,000, has a Muslim majority of 7,000 residents while some 4,000 locals are Druze; the rest are Christian Arabs. Police faced difficulty restoring order, using tear gas and stun grenades to disperse the rioters.