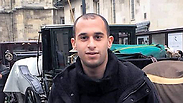 Damari: I came here to play soccer, not to discuss the conflict.
Photo: Nadav Zenziper
A red carpet was the only thing missing on the road leading from Ernst Happel Stadium to the apartment building in an upscale neighborhood in the center of Vienna where Omer Damari lives. Purple FK Austria Wien flags adorned every car and bus, the smiling face of the 25-year-old Israeli striker leapt out from the pages of newspapers, and young fans walked around proudly in team shirts bearing the number 16.
The two goals Damari scored last Sunday in Austria Wien's 3-2 victory over SK Rapid Wien – the club's first win in two years in Austrian soccer's big derby game – have turned him into the city's official idol. Ever since the victory, everyone's been talking excitedly about the Israeli "Bomber," who joined the club three months ago and has become its undisputed star. Damari, gracious and grateful for the love he is getting, is even willing to forgive the television commentators and pundits who pronounce his name Omar instead of Omer, thus creating the impression that he's Muslim.
The Vienna clash is one of Europe's most violent soccer derbies. Three years ago, with Austria leading 2-0, Rapid fans – with xenophobic hooligans and skinheads in their ranks – decided the game was up. Dozens of them, their faces masked, invaded the field, kicked the ball out of play and sent the players and referees running for the locker rooms. Sunday's game saw Austria fans throw flares and firecrackers into the Rapid stands. Helmeted policemen burst into the stands and began beating the rioters mercilessly. But nothing could overshadow the achievement of the Israeli "ambassador."
Damari, his wife, Sapir, and their 4-month-old baby, Shaked, live in one of Vienna's tourist centers, just a five-minute walk from Stephansplatz, the city's main square. A single bridge over the Danube River separates the apartment from Vienna's Jewish neighborhood. Damari pays 2,000 euros a month for three spacious rooms and another 300 euros for a parking bay. The entire city, with the blue river running through its center, lies spread about before you from the apartment's balcony.
"It was very important for me to live in the center because there are quite a few Jews here," Damari says. "There are kosher restaurants, synagogues, and you even hear Hebrew here and there."
Damari signed a four-year contract with Austria in the summer, guaranteeing himself a salary of 350-400 thousand euros a season – more than double his wages in Israel. His signing cost the club 1.6 million euros, with a sizable portion coming in the form of a donation from a wealthy businessman of Jewish origin. The club's ties with the Jewish community are certainly not coincidental. During the early 1900s, Hakoah Wien, many of whose players were Jewish, featured strongly in the Austrian league. The Nazi occupation, however, saw the club shut down, and many of its Jewish players perished in Auschwitz.
Austria Vienna has no direct links to the historical club, but its purple team uniforms are reminiscent of those of Hakoah, and the club is widely supported among the Jewish community. Since Damari's arrival, naturally, Austria Wien's games have become a hit among the leaders of the Jewish community in the country; and community leader Oskar Deutsch was quick to send Damari congratulatory wishes following the Israeli's brace in the derby.
"It's very symbolic from my point of view that I am the answer to what they tried to exterminate here during the Holocaust, including the Jewish sportsman of Hakoah Wien," Damari proudly says. "I'm enjoying being the representative of the Jewish people and the State of Israel in this particular place, where Jews were once forced to hide and from where they were sent to their death. I am proud to represent our country and succeed here of all places."
Damari arrived in Vienna in late July, at the height of Operation Protective Edge in Gaza, and of course found himself, sometimes reluctantly, playing the role of Israel's spokesman at training sessions.
"The media in Austria, like elsewhere in the world, offered a one-sided picture that portrayed Israel more as the aggressor," he says. "There were players who asked me why we're killing so many people. I tried to explain that it's a complicated matter, that it's very hard to explain in a nutshell, and that I'm not a political emissary in any case. I came here to play soccer, not to explain something that bigger and better people than me in the Middle East aren't able to explain.
"I said it was another misunderstanding in the ongoing conflict between us and the Palestinians. I don't want there to be fatalities on either side. I want peace; it's enough with these wars already. What I can say is that I didn't sense any change in attitudes towards me in the wake of the war."
Did you not encounter any manifestations of anti-Semitism?
"I don't feel the anti-Semitism. I am well aware that Adolf Hitler was born in this country; but it's precisely because of this that they fight such phenomena today. To date, I haven't sensed any hostility. I live in the moment; I have a strong sense of security; the police here don't play games. The police don't have friends from the 'hood. The police get stuck in hard when necessary, and they are strongly supported by the Jewish community. In general, I may be in Vienna, but I feel like I'm in Israel. I want my daughter to grow up in Israel. I wish of course to further my success in Europe, and of course I enjoy the standard of living and education here; but I'm an Israeli patriot and tied to our country."
Damari's day begins at 8:30 am, an hour before training starts. At noon or so, he eats lunch with his teammates at the club ("I don't eat meat there because I keep kosher"), and then he usually has a two-hour workout in the gym there. "Before away games, we journey by train a few hours and spend the night at a hotel," he says. "If it's a home game, we meet in the morning, eat together, drive to a luxury hotel in the city, and from there to the stadium."
Twice a week, Damari studies German with a tutor specially provided by the club. He says he's bonded with most of the team's players and gets much support from them. "Midfielder Alexander Grünwald is my closest friend, but I have other friends on the team too," Damari says. "We've been out once or twice after wins, and I feel at ease with everyone."
He admits, however, that he has tough days too. "The lifestyle is very different from that in Tel Aviv," Damari says. "I've had days, especially in the beginning, when I felt sad and it as hard for me. I miss the sun, the opportunity to be outside all the time. It's gray and cold here; my family isn't here; the Hebrew is missing.
"We have things that we bring from Israel, like coffee and Similac baby formula. But you have to adapt. They paid a lot of money for me and I want to progress and succeed," he concludes.
What with the big money they paid for you and your success on the field, you must be under a lot of pressure.
"I felt under a lot of pressure when I arrived here in the summer; 1.6 million euros is a lot of money by Austrian standards. Before my first game, that presented me to the large crowd, and I was interviewed by all the major newspapers here. I definitely sense there is much expectation from me."
Damari know that success here could pave the way to other European clubs, and certainly in the German Bundesliga, for which the Austrian league serves as a backyard.
"This isn't the top league in Europe, but I prefer not to look too far ahead," he says. "I've been here for just 11 games, and I have a four-year contract. I want to stay here for at least another season or two, to progress, and then we'll see where I get to. Soccer officials from all over Europe come to watch games here. German national coach Joachim Löw, a former coach at the club, came to one of our games. And scouts are always coming over from Germany, France and England. If it were up to me, I'd like to play in Germany or Spain."