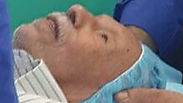 Bashi Gabai. Proper circumcision under local anesthesia at 92
Bashi Gabai of the central Israeli city of Or Yehuda underwent a proper circumcision last week at the age of 92, after learning that the procedure he had gone through when he was eight days old was not performed according to Jewish Law.

This issue has been debated by circumcisers around the world for the past 18 months, after a random conversation provided by the chairman of the Brit Yosef Yitzchak organization, which specializes in circumcisions, revealed that Jews born in the Iranian city of Shiraz had undergone a "hatafat dam" process (in which a drop of blood is extracted from the penis), but that their foreskin was not fully removed as halachically required.

Ancient Ritual

Op-ed: How is it possible that even bleeding hearts, pacifists and anarchists, who support a radical theory of personal autonomy, perform this barbaric ceremony?

The penalty for not performing a full circumcision is known as "kareth" (spiritual excision from the Jewish nation).

As the rumor about the problematic circumcisions spread, a father and his son were examined and pronounced uncircumcised about a year ago. As a result, the other men in their extended family were also examined and one of them was also pronounced uncircumcised. He decided to repeat the circumcision together with his brothers two weeks ago.

"After a short interview, one of the organization's activists asked him if his father was still alive," Rabbi Shimon Moshe Chai Rahamim, an expert circumciser in the Brit Yosef Yitzchak organization, told Ynet. "He said yes, and so we sent an expert circumciser to the father's home in Or Yehuda who discovered that he was completely uncircumcised, as if he had never undergone the process."

Bashi Gabai, the 92-year-old father, immediately agreed to undergo the proper circumcision, Rabbi Rahamim says.
Nearly 200 Shiraz circumcisions fixed
The procedure was performed at a medical center in Bat Yam last week under local anesthesia. Bashi was fully conscious and his son-in-law served as his "sandek," a person honored at a Jewish brit milah ceremony.

According to the rabbi, there was a lot of excitement during the ceremony and the following meal.

The Brit Yosef Yitzchak organization has 5000 circumcisers and has performed about 62,000 brit ceremonies around the world so far. It is now particularly engaged in the issue of the problematic circumcisions in the city of Shiraz and its surroundings.

"Since the problem has been discovered, we have been encouraging Shiraz natives to have their circumcision examined," Rabbi Rahamim says. "We discovered that the circumcisers there did not perform the procedure properly."

So far, nearly 200 Shiraz natives, aged 25 to 92, have been examined and had their circumcision corrected by Rabbi Shlomo Mahfoud, one of the most important Sephardic rabbis.

"The organization is appealing to other Jews who were circumcised by the Shiraz circumcisers, who also performed the procedure in the city of Yazd and its surroundings, to get examined by Rabbi Shlomo Mahfoud, who is an expert in examining adults."