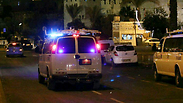 Suspected terror attack in Jerusalem
Photo: Hillel Meir, Tazpit
A 32-year-old Jewish man was stabbed in his back by a Palestinian with screwdriver in Jerusalem Sunday evening and sustained light to moderate wounds. Police said the man continued walking after the stabbing, until he reached a Border Guard patrol and reported the attack.
Police spokeswoman Luba Samri said the man was stabbed in his back with a screwdriver, wielded by an assailant who "apparently is Arab." Hamas has praised the stabbing, saying it was the "natural response" to Israel's crimes. Similar responses were issued by the terror group after last week's string of attacks.
The Israeli officers escorted the victim to the Western Wall where he was treated by Magen David Adom emergency personnel and then evacuated to Sha'are Tzedek Medical Center.
The suspect fled towards the Nablus Gate. Police forces began combing the Old City area and multiple road blocks have been set up.
The incident took place in Jerusalem's HaNevi'im Street, near the Light Rail, following a violent weeks of ethnic tensions in Israel which saw more Israelis murdered from attacks by terrorists from the West Bank and East Jerusalem in the last month than in the past two years combined. Just last week two people were killed in two different stabbing attacks.
Sergeant Almog Shiloni, 20, from Modi'in, who was killed in Tel Aviv last Monday, and Dalia Lemkus, 26, who was stabbed to death at the entrance to Alon Shvut the same day, were the tenth and eleventh Israelis to be murdered in the past six months. They are the fifth and sixth fatalities in the past month, compared to five Israeli deaths from terror emanating from the West Bank in all of 2012 and 2013.
Furthermore, more than 100 Israelis have been wounded in the past month due to terror attacks with perpetrators coming from the West Bank.