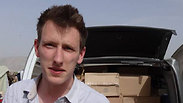 Peter Kassig
Photo: Associated Press
US aid worker and Indiana native Peter Kassig, beheaded by Islamic State militants who captured him in Syria last year, was remembered on Sunday for his courageous devotion to helping people whose lives were upended by civil war.

President Barack Obama confirmed Kassig's death after US government agencies authenticated a video posted online of a masked man standing over the decapitated head of the 26-year-old medic and former US Army Ranger.

Kassig "was taken from us in an act of pure evil by a terrorist group that the world rightly associates with inhumanity," said the president, who offered his condolences to the relief worker's family.

Earlier on Sunday, Kassig's parents, Ed and Paula Kassig of Indianapolis, had asked news organizations to refrain from distributing the video images, saying they wanted their "treasured son" to be remembered for his humanitarian work.

"We are aware of the news reports being circulated about our treasured son and are waiting for confirmation from the government as to the authenticity of these reports," Kassig's parents said.

They referred to him as Abdul-Rahman, the name he took upon completing his conversion to Islam after being taken hostage. According to his family, he was detained on Oct. 1, 2013, as he traveled for a relief project in an ambulance headed to the eastern Syrian city of Deir al-Zor.

Kassig, who briefly served in Iraq in 2007 during a year-long stint in the Army, returned to the Middle East in 2012 for a spring break trip while studying political science at Butler University, his family said.

Moved by the suffering of Syrian refugees displaced by war, Kassig relocated a couple months later to Lebanon to volunteer at a hospital as an emergency medical technician.

In September 2012, he founded Special Emergency Relief and Assistance to provide food and medical supplies to refugees and first aid training to civilians in Syria.

Mourners, including the governor of Indiana and president of Butler University, described Kassig as selfless and an inspiration.

"His murder is a loss for all of us," Nick Schwellenbach, an American who met Kassig while both were studying Arabic in Beirut in 2012, said in an email to Reuters. "His big heart and his outreached hand made a difference in the midst of the cruelty of war."

In a letter to his parents, parts of which they released last month after Islamic State threatened him in a video that showed the beheading of British aid worker Alan Henning, Kassig had said he was doing his best to cope with captivity.

"If I do die, I figure that at least you and I can seek refuge and comfort in knowing that I went out as a result of trying to alleviate suffering and helping those in need," he wrote.