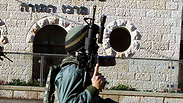 Security forces at the scene of the attack
Photo: Reuters
The first call to report the attack at the Kehilat Bnei Torah synagogue in Jerusalem came at 7:01am Tuesday. By 7:08, the police said, the attack was over and the two terrorists dead. In just seven minutes, they had murdered four people, including Rabbi Moshe Twersky, and wounded seven more.
Shmuel Goldstien, a resident of the Har Nof neighborhood in Jerusalem, took his 12-year-old son to pray at the Bnei Torah synagogue on Tuesday morning, not expecting the sordid scene of bloodshed and death to unfold.
The terrorists who infiltrated the place of prayer seriously wounded Goldstein, but his son Mordechai showed resourcefulness and managed to escape.
"He crawled on the floor so that nobody would notice him and escaped," said Goldstien's mother-in-law Tzipora Heller.
"The boy has been traumatized, he says over and over again how Arabs tried to kill everyone who was there," said Heller.
While the terrorist attack unfolded before his eyes, Mordechai spotted the door to the synagogue open and crawled on the floor, ultimately managing to escape the bloody scene.
"He arrived at his house, knocked on the door, his mother opened it and he told her everything that happened," Heller continued.
"It is a difficult experience for an adult, so of course it would be for a child. He spoke with a social worker from the hospital. He talks and looks okay but he does not talk of his feelings," Heller said.
Goldstien, a 43-year-old husband and father to nine children, went to the Bnei Torah Synagogue often.
According to Heller, Goldstien, who was taken to the Hadassah Medical Center in Jerusalem, is in serious but stable condition. He suffered wounds to his head, chest, hand and ear.
"We spoke to him before he was taken to surgery, we told him the boy was able to escape because he was probably very worried and said, 'thank God,' and then he was sedated," Heller added.
'I saw a worshiper wearing tefillin lying on the floor'
Yaakov Amos was praying in the synagogue at the time of the attack. "During the prayers, I heard shots and saw a worshiper wearing tefillin lying on the floor. The bastard passed me from the right while shouting 'Allahu Akbar' and firing indiscriminately. Three people fell immediately, and I saw him keep on massacring people."
Amos said that, "one of the terrorists did not waste bullets and aimed directly at people. He fired and then looked at me, and chose people closer to him, shooting them at point blank range."
Shouts of 'Allahu akbar'
Yossi Barzani, one of the worshipers in the synagogue, recounted the scary ordeal. "In the middle of prayers, two terrorists entered shouting 'Allahu akbar'. The synagogue was in panic, and I tried to flee. At a certain stage, one of the terrorists approached me with a knife, and there was a chair and a table between us.

"I drew back and ran from him and fled outside. In those moments, I asked God to save me. My prayer shawl got caught. I left it there and escaped. On the way out, I saw terrible sights and bodies."




Ofer, whose brother was wounded in the attack, said his brother had been struck in the head by a meat cleaver and was undergoing surgery. He said that he had received a message that there had been a terror attack and rushed to the scene as he had lived there in the past and his brother was still a resident. "I didn't think he would be there," said Ofer, "but unfortunately he was apparently the first to be stabbed and shot."

"We all love him," said Ofer. "He is an outstanding person; he loves to help people and would never take a shekel from anyone. We hope that my brother will come out of this and keep on teaching and being a righteous family man. My brother was in the wrong place at the wrong time."

The terrorists, cousins from East Jerusalem, had entered the synagogue compound armed with a gun and massive knives. Within minutes, two transport police officers had arrived at the scene and exchanged fire with the terrorists, during which two policemen were wounded, one seriously and one moderately.

Superintendent A., the forensics officer who heard shouting on his radio and rushed to the scene, where he shot the terrorists, described what he saw as he arrived.

"I entered the yeshiva and I saw a policeman with gunshot wounds and two terrorists with kitchen knives, covered in blood and holding a gun, running towards us.

"I fired at them until they were neutralized and then I and other officers searched the yeshiva. This attack reminds me of the attack at Mercaz Harav yeshiva six years ago."

Aviel Magnezi and Shahar Hai contributed to this story