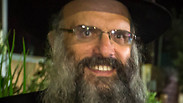 Rabbi Moshe Twersky, a victim of the Jerusalem synagogue terror attack, was laid to rest on Tuesday.
The four victims of the terror attack that took place at a Jerusalem synagogue on Tuesday morning – Rabbi Moshe Twersky, Rabbi Avraham Shmuel Goldberg, Rabbi Kalman Levine, and Aryeh Kupinsky - were laid to rest on Tuesday afternoon at Har HeMenuchot Cemetery in Jerusalem.

President Reuven Rivlin took part in the funerals along with thousands of other individuals who arrived to pay their last respects to Tuesday's victims of terror.

Funeral of the attack's victims (צילום: עידו ארז)

"On one street, four widows and 24 orphans were left," the head Rabbi of the community, Yitzhak Mordechai Rubin, said in his eulogy at Rabbi Twersky's funeral.

Rabbi Rubin told the participants not to seek revenge for the deaths of the four Jews who were killed by two terrorists from East Jerusalem who raided their morning prayers with guns and meat cleavers.

Rabbi Moshe Twersky, a 59-year-old immigrant from the US, and prominent Jewish figure in the Jewish community of Agassi Street in Jerusalem, was one of the four Jews killed during the terror attack on Tuesday morning.

"He was a big and righteous man during his life – not just after his death," Rabbi Shmuel Aurbach, a leader of the Lithuanian community, said in his eulogy at Twersky's funeral.

"He was so close to God during his holy life and was murdered in the middle of his prayers, while T'filin was laid on his head," said Rabbi Aurbach.

Rabbi Twersky left behind a wife, five kids between the ages of 23-33, and 10 grandchildren.

"Besides being a son and servant of God, he was a man with good qualities. He treated me with such love and always gave me a good feeling in every matter," said Rabbi Twersky's son at his father's funeral.

Another one of Rabbi Twersky's sons began to cry and said, "I never thought that at this young age I would stand and eulogize you."

Friends and family of the slain Rabbi told of Twersky's complete devotion to Torah.

"A week ago he said that Hanukah is in a month, and that we must already start preparing and learning the Halachot (Jewish laws)," his sons said.

"On Shabbat nights he never slept but rather learned Torah. One time I woke up at 2 am and he was still studying," his son said.

Rabbi Twersky's son-in-law, Rabbi Mordechai Altulesky, said, "We never saw him rest or go on vacation. All of his time was dedicated to studying Torah. It was a marvel to see how a man could work so much. He labored almost without stop."

Rabbi Twersky's father, who died 17 years ago, was the Rabbi Yitzchak (Isadore) Twersky, a Jewish Medieval History professor at Harvard University.

Twersky's grandfather on his mother's side was Rabbi Joseph B. Soloveitchik, the former head of Yeshiva University, a private Jewish university in New York that has branches in Jerusalem and Los Angeles. Soloveitchik, who was known as "The Rov," ordained close to 2,000 rabbis over the course of almost half a century.

Israel police and Border Police accompanied the funeral procession and burials of the victims, and a large number of Israeli police forces were scattered throughout central intersections in the capital.
Prayers resume at synagogue
Shortly after the funerals of the four victims of the Jerusalem synagogue attack on Tuesday were underway, dozens of worshipers entered the "Kehilat Bnei Torah" synagogue in Har Nof to pray. The blood strains were all cleaned out, but the signs of the massacre that took place in the early morning hours were still evident, mostly the shattered windows from the gunfire.
Worshipers read the Shema prayer - "Hear, O Israel: the Lord is our God, the Lord is One." Later, they read chapters from Psalms.
Worshipers back to praying (צילום: גיל יוחנן)
The manager of synagogue, Motti Uderberg, said: "We don't run the world. We keep having full faith and keep praying the Creator. The murderers won't deter us."
One of the worshipers, a resident of the neighborhood, said: "I wasn't here this morning, but this is my community and I know many of the people who were hurt. It was important to me to be here and show we will continue doing what we do."
Worshipers not of the community also came to pray at the synagogue. One of them, Jerusalem resident Menachem, said: "It was important to me to come here to support the families of those murdered, and the members of the community."
Noam (Dabul) Dvir, Omri Efraim, Michal Margalit, Itamar Eichner, and Kobi Nachshoni contributed to this report.