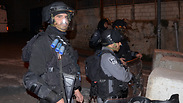 Israeli police forces in Jabel Mukaber East Jerusalem Tuesday night.
Photo: Mohammed Shinawi
Dozens of Palestinian youths threw tires set on fire and stones at Israeli security forces in the Jabel Mukaber neighborhood in East Jerusalem on Tuesday night, after violence heightened following the terrorist attack that killed four Israeli Jews at a synagogue in the capital Tuesday morning.

Riots in the Jabel Mukaber neighborhood of East Jerusalem. (צילום: מוחמד שינאווי)

Police responded by firing stun grenades and tear gas at the Palestinian rioters.

Meanwhile, stones were thrown towards the Jerusalem light rail in the East Jerusalem neighborhood of Shuafat. There were no reported injuries but damage was done to a train car. Searches began to apprehend the suspects behind the incident.

300 right-wing activists protested at the entrance to Jerusalem, near the Bridge of Strings, on Tuesday night. The protesters called for revenge for the synagogue terror attack and called out slogans against the Prophet Muhammad.

Right-wing rally at the Bridge of Strings in Jerusalem. (צילום: גיל יוחנן)

Ten protesters were arrested, four of them teenagers, after they tried to block traffic and did not comply with police orders.

Some of the protesters gathered near the offices of the Yisrael Beitienu political party and protested against Internal Security Miniseter Yitzhak Aharonovich.

Shani, a 32-year-old resident of Jerusalem who participated in the rally, said, "I came because I am angry and I had nowhere to release my anger. It's better I do it here rather than in the (Arab) villages. We want to show our presence. There is no coexistence in this city; there will no longer be peace."

Also unfolding in Jerusalem Tuesday night, a 20-year-old man riding a bicycle in the Old City was attacked by two Arabs with an iron rod. He was taken to the Hadassah Medical Center in the city with light wounds.

Noam (Dabul) Dvir contributed to this report.