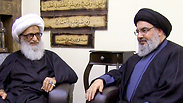 Hassan Nasrallah with top Shiite ayatollah
Photo: AP
Hezbollah Secretary-General Hassan Nasrallah has left his secret underground lair for a rare photo-op, pictures released Tuesday revealed. The Lebanese terror group's leader has been kept under lock and key since the end of the Second Lebanon War in 2006, and such public appearances are rare.

Hezbollah's public relations department issued pictures of Nasrallah with Grand Ayatollah Sheikh Basheer Hussain Najafi, a prominent Shiite figure and one of Iraq's five Grand Ayatollahs. As his name suggests, Najafi is from Najaf in Iraq, one of Shiites most holy places, home to the Imam Ali Shrine, which attracts millions of pilgrims yearly, third only to Mecca and Medina.

The two met near Nasrallah's stronghold in the Lebanese capital of Beirut, where Najafi was set to receive medical treatment. The two reportedly spoke about current regional events, and Nasrallah wished the ailing ayatollah good health. However, the exact time and details of the meet were kept hushed up by the terror group.

Nasrallah had a very busy Tuesday, and during his time out of the bunker, he also met with Lebanese Defense Minister Samir Moqbel. Moqbel, the Lebanese paper Daily Star said, is holding a series of talks with high-ranking political officials in wake of his return from an official visit to Tehran late last month.

The two reportedly spoke about a controversial arms deal and shipment between Iran and Lebanon, and Nasrallah reiterated his support for military action and offered his group's support.

According to a statement released by Hezbollah, the two spoke about "the latest political and security developments in Lebanon and the region," and Hezbollah's top security official, Wafiq Safa, also joined the meeting, the paper Daily Star reported.

Since the end of the 2006 war with Israel, Nasrallah has refrained from being seen in public, fearing Israeli assassination attempts, and in the past eight years has only spoken in public a handful of time.

Last month, Hezbollah-affiliated papers reported that Nasrallah participated in a tour in Lebanon's border region in an attempt to rally his forces, currently entangled in a violent fight with al-Qaeda offshoots Nusra Front and the Islamic State group.


Two weeks ago, as part of the holy Day of Ashura holiday, Nasrallah made another rare appearance, under massive security, but unlike past years he chose not to participate in the central march held in Dahyeh, Hezbollah's stronghold in Beirut.

His Day of Ashura appurtenance prompted many to wonder about the role of his masked security guard, called by some 'ninjas', who were deployed to secure the area.

Some reports said the unit is a counter-terrorism force said to work against the threats of radical Sunni groups gunning for Nasrallah. Their appearance on the scene prompted rumors of a thwarted assassination attempt, however these were not confirmed.