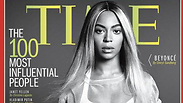 Time Magazine
Photo: Screen Shot
Chalk a big one up for Outbrain, the world's largest content-discovery platform, which on Tuesday announced that it had signed a deal with Time Inc. under which the latter has adopted Outbrain's content-recommendation technology on an exclusive basis.
Time is expected to receive more than $100 million in revenue-sharing over the course of the deal, with Outbrain set to pocket around $35 million. According to assessments revealed by Calcalist, Outbrain is looking at a net income of some $80 million in 2014, ahead of a stock offering in the first half of 2015. This figure reflects a 100 percent increase in relation to the company's revenues in 2013.
Time will have access to Outbrain's network technology and its exclusive content recommendations, which help content providers present users with articles and videos in keeping with their surfing habits. Time will also get Outbrain's Visual Revenue system, which helps media companies analyze the popularity and relevance of their content.
Outbrain has its headquarters in New York, from where the company conducts most of its business activities; its development center, however, is in Israel. The company has 400 employees on the payroll, including 150 in Israel, and has thus far raised some $100 million in venture capital. The likes of Lightspeed Venture Partners, Carmel Ventures, Gemini, GlenRock, Index Ventures, HarbourVest Partners and Rhodium are among the company's major investors.
Outbrain is expected to end 2014 with advertising accounts to the tune of $250 million, such that its net revenues total around one-third of the sum of the accounts it handles. The remaining amount of $170 million or so is passed on to the websites it serves. In 2013, the company turned over advertising accounts totaling $120 million.
With these figures in hand, Outbrain is seeking to go public on the NASDAQ in the first half of 2015 and has hired the services of the Goldman Sachs and JP Morgan investment banks as underwriters. The company expects to submit the prospectus in the first quarter of the year.
Details of the deal were revealed during the course of background research ahead of an exclusive interview with Outbrain CEO and co-founder Yaron Galai.