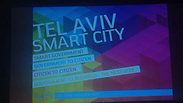 Tel Aviv wins World Smart City award in world competition.
The Tel Aviv Municipality beat 250 cities from across the globe to receive the World Smart Cities Award, a competition launched as part of the Smart City Expo World Congress in Barcelona this week.

The Smart City Expo in Barcelona is considered an important conference in the city innovation industry. The annual conference began three years ago and last year Rio de Janeiro received the honor of first place in city innovation.

Tel Aviv set up a booth showcasing the various technology a part of Tel Aviv's "Digital" project among leading companies in the industry that were present at the expo.

Tel Aviv was nominated for the adoption of assistive technology such as Wi-Fi throughout the city, location-based technology tools, adaptation for smart phones, and the activation of public round tables, discussions and a collaborative budget.

The Tel Aviv municipality said the urban digital project includes among other things a new resident card that has been used by 90,000 residents to date.

The resident card enables every resident to receive services and information by e-mail, text message and a personal website that is especially customized for the resident by place of residence, interests, marital status, and more.

The digital project also includes a mobile app, a geographic information system (GIS), an application development contest based on open databases, online registration and more.

Tel Aviv Mayor Ron Huldai said: "I'm happy about the recognition the municipality is receiving for its technological knowledge and creativity in the city that is used to improve public service and make city services more advanced, efficient and transparent."

Last year, the digital club won a special merit prize in the 2013 Webi Awards held by People and Computers Magazine.