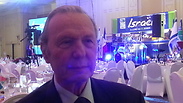 Maurice Rapovich: The human landscape has changed in entire neighborhoods
At the age of 76, Maurice Rapovich decided that enough was enough. He has spent his entire life in France, losing his mother, sister and brother in the Holocaust, starting his own family, serving in the French army and finding his calling as a doctor. But growing anti-Semitism in his country has prevailed and he has decided to leave it all behind and move to Israel.

Maurice first encountered manifestations of anti-Semitism at a young age, at the hands of the Nazi invaders of France. "I was four when they came for the Jews, and I only escaped the Aktion of July 16, 1942 because I was sick," he says.

He spent the war as a child hidden in the homes of people who took pity on him. At the end of the war, he realized that his mother Ida, sister Susan and brother Samuel were not coming back. Only he and his father Hermann were left.

At school during the postwar period, Maurice often suffered harassment because of his religion. Epithets such as "dirty Jew" were thrown at him, which led to many fights. But times changed and the environment changed, and anti-Semitism petered out. One of the causes of this change was Jewish community life. "Everything was protected, like in a bubble," he says.

In 1958, after graduating from high school in Paris, Maurice joined the French army and served with the Armored Corps in Normandy. In 1961, he married Nicole and began to study medicine. As time passed, the couple had two children and Maurice opened a private practice. For 36 years he served as physician to anyone who knocked on his door and asked for help.

"I do not recall there being anti-Semitism directed at me or my family," he says. "The patients at the clinic did not see me as anything more than their doctor. There were Muslims and Christians, and everyone treated me like everyone else."
A foreign Islamic landscape
Over the past decade, however, there has been a change in atmosphere and gradual change in the balance of power, with the strengthening of the Muslim population and the growth in Arab radicalism.
"The human landscape has changed in entire neighborhoods, where there are no Europeans only Arab Muslims, and over time you can see more and more Islamic dress, which had not been so visible before on the streets," he says.
"In the last decade, there has been a sense that the suburbs in various European cities have become a stronghold of Islam, and when you enter them you feel like you're on foreign soil, in the land of Islam. This is what led to my decision to leave France."
Maurice stresses that in his adult life he has not been attacked personally for being Jewish, but he feels that the situation is getting worse and even expects it to worsen further.
"Today we are not far from having radical Muslims and the Islamic State reach major European cities, and then it might be too late."
Daily harassment
In recent years, there has been increasing delegitimization of Israel and a parallel rise in racism and anti-Semitism. This trend has been further exacerbated over the past two years, particularly in light of the fact that radical Islam is growing in Western Europe.
Given the situation, it seems clear some are finding it difficult to maintain normal life in the organized Jewish communities of Western Europe, in particular in France and Belgium. There is visible damage to property whose owners are identified as Jews, such as kosher food stores or synagogues, alongside daily instances of harassment, verbal abuse and other forms of hate. These incidents run into the thousands every year.
Most cases are not dealt with by police, firstly because of a failure to make a complaint for fear of revenge, and secondly because of a dearth of legal tools to deal with the offenders.
Given the situation, many Jews in Europe - and France in particular - are not "declaring" their religion. They have stopped wearing their kippot, at least in public, have removed the mezuzot from the doors of their homes and more. Disguising one's Jewish identity is common in major cities in France, such as Paris, Lyon and Marseille, where there are large Jewish communities.
Also key to understanding the anti-Semitism the way in which Israel's complex political situation is viewed in the international arena, especially in Europe. This has given rise a situation in which anti-Semitism is being disguised among ideologically legitimate political stances against Israel.
Nor is the European media favorable to Israel, to say the least. One could see it clearly during the operation in Gaza this summer, in the way in which foreign journalists were instructed on how to portray Israel.
Rapovich says he believes the money that supports the French media comes from Muslim countries in the Middle East, thus creating an image that puts Israel in a negative light and fuels hatred of Jews around the world.
As part of efforts to create an environment more favorable to Jews, last week the Jewish National Fund held a conference in Israel entitled "Israel today and tomorrow", which aimed to show dignitaries - not necessarily Jewish – the Israeli reality as it is, to counter the problematic image of the country in Europe. This was preceded by a conference held last February in Paris, attended by thousands of French people who also wanted to see the "true Israel".
Rapovich claims that the average Frenchman does not understand Zionism or even knows what Israel is. His opinions are formed by the media to which he is exposed.
"In mind it is a kind of cell, more precisely, a kind of anti-Israel mind trap, and we have to work hard in order to explain Jewish history to the French," he says. "The problem is that there is a duality to being a citizen of the state and being a Jew. Most Jews see themselves primarily as citizens and only then as Jews, hence the difficulty in explaining matters."
Even so, the data shows a shift in thinking among the Jews of France. Since the start of the year, 6,000 immigrants have made their way to Israel from France, as opposed to just 2,9000 in the whole of 2013.
This huge rise shows that it is not only religious Jews who wish to maintain a religious lifestyle that are coming to Israel, but also families that understand that being able to preserve their Jewishness to even the next generation is nothing that can happen in France.