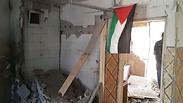 Destruction of terrorist's home in Silwan
Photo: Muhammed Sinawi
The Palestinians said Thursday that the Israeli police handed home demolition notices to families of four terrorists from East Jerusalem involved in terror attacks over the past three weeks, which claimed the lives of six Israelis and left 18 others wounded, including right-wing activist Yehuda Glick, who was targeted by a would-be assassin.

The destructions are a renewed tactic meant as a punitive measure for a wave of Palestinian attacks on Israelis. Although the tactic has caused much controversy and debate over its effectiveness, Prime Minister Benjamin Netanyahu has stepped up the demolition orders in an effort to halt the violence.

The family of cousins Ghassan and Uday Abu Jamal, the two Palestinians who carried out the deadly assault on a Jerusalem synagogue this week, said police have ordered the demolition of their homes.

In addition to that, Adnan Husseini, the Palestinian Authority minister for Jerusalem affairs, said the families of Ibrahim al-Akari and Muataz Hijazi also received the notices on Thursday. An Israeli police spokesman said he was checking the report.

Al-Akari was shot dead by security forces after killing two Israelis earlier this month, when he rammed his car into a Jerusalem light rail station. Hijazi was also killed by police after he shot and seriously wounded right-wing activist Yehuda Glick, who has lobbied for greater Jewish access to the Temple Mount.

On Wednesday, the IDF demolished the East Jerusalem home of Abed a-Rahman a-Shaludi, who plowed his car into a crowd of people waiting at the Ammunition Hill station of Jerusalem's Light Rail on October 22, killing 3-month-old Haya Ziesl Braun and 22-year-old Ecuadorian Karen Mosquera, and wounding five others. A-Shaludi was shot dead by police as he fled on foot.

Netanyahu has called for tough action amid a wave of attacks against Israelis. Eleven people have died in five separate incidents in recent weeks - most of them in Jerusalem, but also in Tel Aviv and the West Bank.

The attacks reached a new turning point on Tuesday when two Palestinian assailants burst into a crowded synagogue during morning prayers, killing four worshippers and a Druze Arab policeman with meat cleavers and gunfire. It was the deadliest attack in the city since 2008.

The violence has taken place against the background of roiling tensions over access to Jerusalem's most holy site, known to Jews as the Temple Mount and Muslims as the Noble Sanctuary. The Palestinians fear that Israel wants to allow Jews to pray there, breaking a status quo in effect since Israel captured the area in the 1967 Six-Day War.

Netanyahu and other Israeli leaders have repeatedly denied the claim but nationalistic politicians have increasingly stirred tensions by visiting the site.