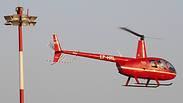 The R-44 helicopter on display
Photo: AP
TEHRAN - An Iranian company on Thursday displayed four brand new US-made helicopters it purchased through third parties, offering them as proof that the country could evade international sanctions over its disputed nuclear program.

The display of the R-44 helicopters came during an air exhibition in Kish Island, in the Persian Gulf. The four-person helicopters are manufactured by the California-based Robinson Helicopter Company.

Mahmoud Azin, the head of Iran's Helicopters Company, told the Tasnim news website that the helicopters were purchased at a marked-up price through "dealers" and can be used for both training and police air patrols. His company, which has some 25 helicopters, mainly serves Iranian oil sites.

Azin said the purchase showed that Iran could bypass US and international sanctions. He said the international price of the four helicopters is about $2 million.

Iran's civil aviation agency announced the purchase of the four helicopters in September, saying they would be used for training purposes. It did not provide details on who sold the aircraft.

US firms are largely forbidden from doing business with Iran and the Treasury Department has aggressively pursued violators. The UN Security Council has also imposed tough sanctions on Iran. It was not immediately clear if the purchase of the helicopters constituted a violation of either the US or international sanctions.

The international sanctions stem from Iran's nuclear program, which Western nations fear is part of a covert effort to develop a weapons capability. Iran denies such allegations, insisting its nuclear program is entirely peaceful.

Iranian and international negotiators hope to reach a comprehensive agreement by Nov. 24 that would see Tehran curb its nuclear activities in exchange for sanctions relief.