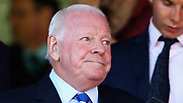 Dave Whelan
Photo: Gettyimages
Wigan Athletic owner Dave Whelan has been accused of anti-Semitism after he told the Guardian that he thinks that "Jewish people chase money more than everybody else."

Ironically, according to the Guardian, the comments came as part of Whelan's attempt to defend the appointment of Malky Mackay as Wigan's manager, despite the fact that Mackay himself was being investigated by the UK's Football Association for alleged racism and anti-Semitism.

In email and text exchanges Mackay reportedly sent, he reportedly described Cardiff City owner, Vincent Tan, a Malaysian, as a "chink". In another such exchange, the Guardian reported, Mackay said "nothing like a Jew that sees money slipping through his fingers," in reference to a Jewish football agent.

In a bizarre attempt to defend his newly-appointed manager, Whelan claimed neither comments were offensive.

Whelan said the reference to Jewish agent only reflected the fact that Jewish people "love money", Whelan said that "Jews don't like losing money. Nobody likes losing money."

When asked by the Guardian whether he thought that invoking the stereotype that Jews "love money" was offensive, he said: "Do you think Jewish people chase money a little bit more than we do? I think they are very shrewd people."

To add insult to injury, Whelan then added: "I think Jewish people do chase money more than everybody else. I don't think that's offensive at all."

According to the Guardian, Whelan then said he did not think there was "a lot wrong" with what Mackay had said, adding: "It's telling the truth. Jewish people love money, English people love money; we all love money."

Whelan's comments came only a day after one of Wigan's shirt sponsors, Premier Range, announced it was cutting support for the the club, saying its position was "untenable".