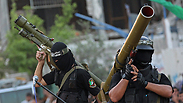 Hamas cell planned to shot at Lieberman's convoy with RPG
Photo: EPA
A Hamas terrorist cell planned to assassinate Foreign Minister Avigdor Lieberman, the IDF, Shin Bet and police said in a statement Thursday evening.

According to the statement, the group, comprised of members of Hamas military wing from the Bethlehem area, planned to target top Israeli officials, including Lieberman. They sought to purchase an RPG rocket launcher with the intent of shooting Lieberman's car.

FM Lieberman, Friday morning (צילום: גיל יוחנן)

Ibrahim Salim Mahmoud al-Zir, 37, from the village of Harmela near Bethlehem, led the terror cell behind the mission. Al-Zir is known to Israeli security forces and has in the past served time for security offenses he conducted with Hamas.

Al-Zir planned the attack in August, during Operation Protective Edge, in order to send a message to Israel to stop its war in Gaza.




Al-Zir recruited his brother, Ziad Salim Mahmoud al-Zir, 35, and fellow Hamas operative Adnan Amin Mahmoud al-Zir, 31, to join his terror cell, both released prisoners from Ramallah. In their interrogation, both Adnan and Ziad admitted to have been recruited to the cell and to have agreed to aid in executing the attack.

Al-Zir also turned to another prominent Hamas military operative, Yusef Ibrahim Yusef al-Sheikh, 50, who previously aided Hamas' leader in Bethlehem Ali Alaan (who was involved in a suicide bombing and killed by IDF troops). Ibrahim asked al-Sheikh to help him procure an RPG rocket launcher for the attack.

Hamas, which controls the Gaza Strip although it is formally under Abbas' rule, neither confirmed nor denied the allegations.

"We have no information about this issue. However, we stress that leaders of the Occupation (Israel) who are responsible for the killing of children and women and for defiling the sacred sites are legitimate targets for the resistance," Hamas spokesman Sami Abu Zuhri said.

Investigation by Israeli security forces found that the members of the terror cell gathered intelligence on the movements of the foreign minister's convoy.

As the only senior minister who lives in the West Bank (in the Gush Etzion settlement Nokdim), Lieberman is a potentially easy target for the terror cell. The foreign minister lives near Bethlehem and the cell could easily observe his convoy driving on Highway 60 from his house to Jerusalem. The road is also exposed to potential fire from the Palestinian houses on the hill near Bethlehem and from other vantage points in the area.

The members of the cell have been indicted for conspiracy to murder and arms trafficking at the Judea Military Court.

Following the interrogation of the cell members, Israeli security forces uncovered and foiled another Hamas plan to commit additional shootings and vehicular attacks against settlers and IDF troops in Gush Etzion.