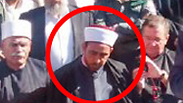 Sheikh Samir Aasi
Photo: Tazpit
A wave of violent racism showed signs of spreading across Israel on Friday. In one incident overnight Thursday, vandals poured acid on a car belonging to Sheikh Samir Aasi, the imam of al-Jazzar Mosque in Acre.
The same night, police arrested a 53-year-old Hadera resident after he allegedly threatened to hurt Arab workers at the Shauli restaurant in the city.
And in an unrelated incident, four activists from the Lehava organization – whose main goal is to prevent mixed marriages – were arrested in Petah Tikvah after allegedly attacking police.
Assai was among the initiators of a meeting of religious leaders with worshipers from the Har Nof synagogue that was the site of a major terror attack earlier in the week. Acre police are investigating the possibility that the incident was carried out by radical Muslims who had been angered by the show of solidarity.
The sheikh is known for his efforts to work with Jewish religious figures and city officials to mediate between Muslims and Jews in the mixed city.
Ahead of this year's Eid al-Adha holiday, which coincided with Yom Kippur, he worked to prevent friction between the two religions in Acre. On Wednesday, he joined former chief Rabbi Shlomo Amar and Muslim, Christian, and Druze leaders in a tolerance-promoting visit to the Har Nof synagogue. Police warned him following the meeting that he could be in danger.
Over the following days, the imam was branded a "traitor" by some in the Arab sector. Those who opposed his Har Nof visited noted that he didn't make similar visits to the homes of the "martyrs" in East Jerusalem.
The sheikh responded by saying that he was unafraid and did not regret the Jerusalem visit. "I don't care what happened to me, he said."I think that this is the right path. I'm proud of the visit, and I'll continue down this road."
He added that he did not know which elements were involved in the vandalism, and was unaware of prior threats. "I complained to the police, and I believe that they'll do their work," he said.
Acre Mayor Shimon Lankri sharply condemned the incident. "The Jewish and Arab residents of Acre have proven that they know how to respect one another and maintain a co-existence based on mutual understanding. This is a regretful incident, and all we can do is hope that radical elements will be dealt with to the full extent of the law," he said.
Acre Chief Rabbi Yosef Yashar said he was shocked by the incident. He described Aasi, with whom he has cooperated for years, as a level-headed and honorable person, who is also respected among his community. "This is an incident that must be condemned," he said, "and I hope the police find the perpetrator."
In the Hadera incident, police said that the suspect arrived to the restaurant at night and complained to the owner regarding his employment of Arab workers. He threatened to harm the employees, left the premises, and then returned half an hour later with a knife.
One of the workers managed to overpower the suspect and pry the knife away from him. Police from a nearby station arrived and arrested the suspect.
Despite the suspect's intention to hurt Arabs, the police did not charge him with a racially motivated crime. They did say that there was sufficient evidence to extend his remand, arguing that he would be a threat to public order if released.
"This is a serious incident," said a police source, "and we are responding accordingly. If the suspect had carried out his threats, he could have caused an escalation in relations between Arabs and Jews within the city and without."
In the Petah Tikva incident, three 16-year-olds and a 22-year-old, activists in the Lehava group, were arrested after allegedly attacking two policemen and lightly wounding them. Police patrol cars saw an organization member handing out propaganda materials near a park.
Police said that when they approached him, activists attacked them. The four suspects were scheduled to appear at the city's municipal court on Friday, where police planned to request extension of their remand.
Raanan Ben-Tzur contributed to this report.