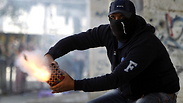 Two Jewish seminary students were attacked and wounded in East Jerusalem Friday evening. The two were reportedly hit with stones, metal rods and nails near the Beit Orot seminary in Jerusalem's Mount of Olives, days after Palestinian terrorists opened fire in a Jerusalem synagogue and killed four rabbis and a Druze policeman.

An initial investigation revealed that the two were part of a group of seven Jewish students who were walking to the seminary when they came across a group of Palestinians from East Jerusalem. A scuffle broke out between the two sides until a Border Patrol force arrived at the scene and escorted the Jews back to the seminary.

MDA paramedics were at the scene and reported receiving an initial alert at 7:55 pm; the paramedics reported that two people sustained light to moderate wounds.

Kobi Tamam, one of the paramedics, told Ynet that "the two (seminary students) said they were attacked with wooden planks studded with nails and were pelted with stones. Both were in the seminary when the paramedics arrived and were fully conscious."

The 24-year-old sustained moderate wounds after being hit in the back with a nail studded plank, and the other, a 21-year-old, sustained a light head wound from a rock thrown at him.

The incident came after the weekly Muslim prayers at Jerusalem's flashpoint Al-Aqsa mosque went off without incident Friday despite high tensions in the Holy City, but stone-throwing Palestinians rioted in the West Bank city of Hebron were an IDF outpost was set ablaze.

Some 350 Palestinians who protested in Hebron were dispered by IDF and Border Gaurd forces after some threw stones. In a seperate incident, about 80 Palestinians threw stones at IDF forces in the West Bank city of Kalandia, and were also dispersed.

Meanwhile, two Palestinians set fire to an IDF outpost dividing the city's Jewish settlement from its Palestinians residents. The two used a firebomb to ignite the blaze. No injuries were reported. One Palestinian protestor was wounded by a rubber bullet. His condition is unknown.

In a seperate incident, an IDF officer was lightly injured in his hand Friday in a-Ram, near Ramallah, after dozens of Palestinians threw stones at the forces. The officer received medical treatment at the scene and the IDF moved to disperse the riot.

The clashes came amid roiling tensions in the area, mostly over Palestinian claims that Israel wants to change the status quo at a contested Jerusalem holy site by allowing Jewish prayer there.

After Israeli authorities dropped age restrictions for attending Friday prayers for the second week running, tens of thousands of people made their way to the Al-Aqsa mosque compound in occupied Arab east Jerusalem.

Police were out in force to prevent a repeat of clashes, led by young Palestinians, that have rocked the city for months.

"The police are on stand-by in different areas to respond if necessary to any disturbances ... There are extra units in and around the Old City," police spokesman Micky Rosenfeld told AFP.

Prime Minister Benjamin Netanyahu has denied that change is in the offing at the site, known to Muslims as the Noble Sanctuary and Jews at the Temple Mount, but some government ministers and Netanyahu coalition partners want the prayers allowed.

No serious incidents were reported there by Israeli police during prayers on Friday, which for the second week in a row were open to all Muslim worshippers regardless of age.

Muslims officials said 45,000 people attended the prayers.

In recent weeks 11 people have been killed by Palestinian attackers in five separate incidents, mostly in Jerusalem, but also in Tel Aviv and the West Bank. Five of the Palestinian assailants were killed by security forces.

Netanyahu has ordered a get-tough policy to deal with the violence and earlier this week Israel demolished the east Jerusalem home of one of the attackers, renewing a practice that had largely been suspended since 2005, when the Israeli military concluded it lacked efficacy. On Thursday four more demolition notices were issued in east Jerusalem, including to the families of two cousins who carried out a grisly attack on a Jerusalem synagogue Tuesday.

In that incident four worshippers and a policeman died, and both of the assailants were killed by security forces.

Yoav Zitun, the Associated Press and AFP contributed to this report.