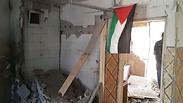 Terrorist's home demolished
Photo: Muhammed Sinawi
Israel has rejected an appeal by the five biggest members of the European Union not to raze the homes of Palestinians who carried out lethal attacks in Jerusalem, saying on Friday that the tactic was designed to deter further violence.
Haaretz reported the Foreign Ministry heard arguments from the German, French, British, Italian and Spanish ambassadors that the demolitions, carried out against one East Jerusalem dwelling this week and planned against four more, were liable to inflame tensions and were therefore counterproductive.
Palestinians said Thursday that the Israeli police handed home demolition notices to families of four terrorists from East Jerusalem involved in terror attacks over the past three weeks, which claimed the lives of six Israelis and left 18 others wounded, including right-wing activist Yehuda Glick, who was targeted by a would-be assassin.
Confirming Thursday's meeting with the envoys, Foreign Ministry spokesman Emmanuel Nahshon said they were told that the measure was consistent with Israeli law and would be pursued.
"This is not meant to be punitive, but rather to dissuade others from carrying out terrorist attacks," Nahshon said.
Unrest has been stoked by deadlocked Palestinian statehood talks, the Gaza war and calls by some Israeli figures to allow Jewish prayer at a Jerusalem compound that houses Islam's third-holiest mosque and is the vestige of Judaism's biblical temples.
In a surge of lethal street violence in the holy city, three Palestinians rammed cars into Israelis and two others went on a gun and knife rampage in a synagogue. The assailants, all from areas of Jerusalem occupied by Israel in the 1967 war and where the Palestinians claim sovereignty, were killed by police.
The family of cousins Ghassan and Uday Abu Jamal, the two Palestinians who carried out the deadly assault on a Jerusalem synagogue this week, said police have ordered the demolition of their homes. In addition to that, Adnan Husseini, the Palestinian Authority minister for Jerusalem affairs, said the families of Ibrahim al-Akari and Muataz Hijazi also received the notices on Thursday.
Israel deems all of Jerusalem its indivisible capital - a status not recognised abroad - and grants residency rights to the city's Palestinians.
Israel used home demolitions extensively during the armed Palestinian revolt of 2000-2005 but suspended the practice, citing concern that it entrenched hostility.
Its revival in Jerusalem has also drawn criticism from the United States.
"We believe that punitive home demolitions are counterproductive in an already tense situation. This is a practice I would remind that the Israeli government itself discontinued in the past, recognizing its effects," State Department spokesman Jeff Rathke said on Wednesday.
Asked if Washington had asked Israel directly not to raze the Jerusalem homes, Nahshon said he was not aware of any such communication. "Our message would remain the same," he added.