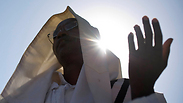 Sigd and Beta Israel in pictures
Photo: Reuters
Sigd is a holiday unique to Ethiopian Jewry (Beta Israel). The holiday's name is derived from the Hebrew word for bowing - "sgida".
Sigd is celebrated on the 29th of Heshvan – or 50 days following Yom Kippur – and is a time when Ethiopian Jews pray for the return to Zion and the rejoice for the renewal of the alliance between the people, God, and the Torah.
During the Sigd, the community prays to God, and plea to return to Zion as well has holding a communal version of the self-examination mandated during Yom Kippur.