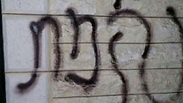 Settlers reportedly set fire to a West Bank home Sunday, in a possible hate crime attack, known in Israel as a 'price tag' attack, after a violent weekend saw string of nationalistically and ethnically motivated incidents.

Palestinians from the village of Khirbat Abu Falah report that overnight settlers began to bang on the doors of the house, and when no one answered, poured a flammable liquid on house and set it alight. They also scrawled anti-Arab slogans like "Death to Arabs" and "Vengance" on the home. No injuries were reported.




Some two weeks ago, the area was scene to another suspected hate crime, when a fire broke out in a mosque near Ramallah, burning down large parts of the structure. The incident occurred in the village of Al-Maghir in the West Bank, a kilometer and a half from Khirbat Abu Falah, and is considered a flashpoint for conflict between Palestinians and settlers.

The incident also follows a violent weekend which saw a number of altercations between Jews and Arabs, as well as a mutual signs of cultural disrespect.

Related stories:

A wave of violent racism showed signs of spreading across Israel beginning overnight Thursday, when vandals poured acid on a car belonging to Sheikh Samir Aasi, the imam of al-Jazzar Mosque in Acre.

The same night, police arrested a 53-year-old Hadera resident after he allegedly threatened to hurt Arab workers at the Shauli restaurant in the city.

And in an unrelated incident, four activists from the Lehava organization – whose main goal is to prevent inter-faith marriages – were arrested in Petah Tikvah after allegedly attacking police.

Meanwhile, graffiti supporting the Islamic State radical group was discovered this weekend on a monument dedicated to Druze killed in Israeli wars, at the entrance to a Druze town, Daliyat al-Karmel, near Haifa. Islamist graffiti was also found on a walking trail near an eastern neighborhood of the town.

Two Jewish seminary students were attacked and wounded in East Jerusalem Friday evening. The two were reportedly hit with stones, metal rods and nails near the Beit Orot seminary in Jerusalem's Mount of Olives, days after Palestinian terrorists opened fire in a Jerusalem synagogue and killed four rabbis and a Druze policeman.