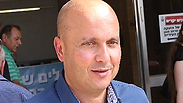 Ashkelon mayor Itamar Shimoni
Photo: Motti Kimchi
Arab employees working to fortify kindergartens in Ashkelon will return to their construction projects while the children attending those classes would stay at nearby community centers, according to a weekend decision by the city's mayor, Itamar Shimoni.

Last week, Shimoni drew condemnations from across the aisle when he decided to limit employment of Arabs in the city.

The chain of events began with a request from the parents of children who attend three local kindergartens, who complained that Arab workers were constructing shelters in education centers.

Shimoni decided to halt the construction projects in light of the mounting tensions across the country, but did not manage to square the need for building the shelter – without the Arab employees.

An inquiry by Home Front Command discovered that the aforementioned kindergartens had only a week of construction work remaining. According to a municipal proposal, to be presented to parents Sunday evening, their children will spend that period in nearby community centers.

"The proposal maintains our daily routine while completing construction of the sheltered spaces," said Shimoni. "I examined the option of fortification work beginning at 4 pm, when the children returned home, but the employees cannot work in the dark."

"Unfortunately, my decisions were taken out of proportion. I was simply listening to the parents of the mentioned kindergartens. At not point did I order the expulsion of Arabs from Ashkelon."