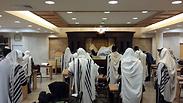 "Kehilat Bnei Torah" synagogue Wednesday morning
Photo: Noam (Dabul) Dvir
"This is the first neighborhood on coming into Jerusalem – right at Sakharov Gardens if you're coming from Tel Aviv," says David Tsur; and already in saying so, he tries to explain just how far Har Nof is from the conflict's flashpoints, from the seam line neighborhoods.
But Tsur, who together with Itzik Fodor set up the Har Nof Guard association, knows, too, that the distance means nothing these days – and the same goes for the fact that "it's a quiet, peace-loving, tolerant neighborhood where hundreds of Arab laborers show up every morning and end their work in the afternoon, and everything, but everything, is just fine."
We meet on Hai Taib Street, the road that runs along the eastern end of the neighborhood, which is surrounded to the north, west and south by the Jerusalem Forest, which seems a much darker and foreboding place the night after the horrific terror attack at the Kehilat Bnei Zion synagogue.
But the air in the neighborhood itself is crisp and clean, the sidewalks are well illuminated, and even now, close to midnight, the large courtyard outside the synagogue is filled with people, young and old, almost all wearing black hats, and one woman standing to the side and watching them.
Related stories:
A slender boy in a black suit pushes his head into Tsur's vehicle, with its strobe light on the roof and a sign reading Har Nof Guard.
"Yes, righteous young man?" Tsur says.
"Can you give me a ride home?" the youth asks.
"I'm busy," Tsur responds, and the boy shrugs his shoulders. As far as he's concerned, the Har Nof Guard is also a late-night ride service of sorts.
Most surprising of all is the quiet. People are walking up and down the steps that have already been cleaned of the blood, others are milling around the police barriers still in place, and everyone is talking in low tones.
No one is shouting, "Death to the Arabs," no one is demanding retribution, no one is promising an appropriate response to the Arab terror.
"Shots fired at 5 Agassi"
The first message came through to the Har Nof Guard's WhatsApp group at 7:09 a.m. on Tuesday.
"Anyone know what's happening at the entrance to the neighborhood?" it read. The first response came through a minute later: "Shots fired at 5 Agassi."
At 7:11, someone reports: "Terror attack." At 7:12: "Casualties at the synagogue." At 7:28, with everyone already there, the first summary update comes in: "Rabbi Rubin's synagogue, the 6:30 a.m. prayer session, fatalities, two terrorists killed;" and then at 7:33 – "Four dead on our side;" and three minutes later: "And five seriously injured;" and in and among the messages, images from the scene – holy books and artifacts covered in blood, people lying on the floor of the synagogue, large pools of blood.
When Tsur and Fodor founded the Har Nof Guard, they didn't have anything like this in mind.
The idea of the neighborhood watch first came up about a year ago – the brainchild of Tsur, 31, married with two children, an intern at a law firm, and about to sit the Bar exam; and Fodor, 35, married with four children, a graduate of the Hebron Yeshiva with a BA in Economics from Bar Ilan University, and a building contractor who employs 10 Arab laborers.
"We were being plagued here by break-ins – every night, between 10 and 15 homes," Tsur recounts.
"They'd come up through the forest, without any fear, cut through the burglar bars, get inside, avoid the sleeping homeowners, take wallets, jewelry, silverware, anything that could be easily carried. One time, someone woke up, found two burglars in his home, attacked them and ended up with serious injuries, two weeks in intensive care and another four months in rehab.
"And all the while, despite having repeatedly approached the police, we were left to our own accord. Every now and then, a patrol car would do a quick drive around the neighborhood and disappear. There were also instances in which women were harassed and local fights broke out. We clearly realized that if we didn't help ourselves, no one else would help us."
And then?
"And then 10 or so of us got together and decided we need to take responsibility, like in the other neighborhoods," Tsur continues.
"Anyone who thinks the police are going to help and protect him is making a mistake. Either we help ourselves or we remain stuck with the burglaries and thefts and harassment. We set up a non-profit organization and recruited volunteers."
Tsur says they met with anyone who could perhaps help.
"We approached the community policeman, who's in charge of security in the neighborhood on behalf of the police," he says.
"We told him we need guidance and help. The policeman checked, came back to us and said that since we don't have a proper location, he can't help us. We weren't able to get in touch with his superiors. As far as they were concerned, we didn't exist. True, our motivation was related to the property crimes, but the residents' personal security was clearly an issue too."
Tsur and Fodor invested several tens of thousands of shekels of their own money to promote the project; and they rented a small room for NIS 1,500 a month and turned it into their security headquarters, which responds to calls from residents 24 hours a day and seven days a week.
And what about on Fridays and Saturdays?
"We have a Shabbat goy, a former Egoz Unit fighter – a guy from Russia."
And have you had any success?
"We discovered, for example, that the neighborhood was experiencing a series of break-ins, almost on a daily basis, that were always occurring during the day. We couldn't understand who could be doing it in a neighborhood where everyone, more or less, knows one another. And then we discovered it was the driver of the children's shuttle bus. He'd finish his round, and then supplement his income while waiting for the children. So we gathered the evidence; and when we felt we had solid material, we called in the police."
God is our avenger
A mixture of ultra-Orthodox and national religious, Ashkenazim and Sephardim, rich and poor, most of the neighborhood's residents work – as engineers, lawyers, doctors, in hi-tech and the academe, and as rabbis and teachers at yeshivas.
And there's the Shas aristocracy too – Rabbi Ovadia Yosef, who lived here until his death, and MKs Aryeh Deri, Eli Yishai, Meshulam Nahari and Yitzhak Cohen, who live just a few minutes' walk from the synagogue where the attack took place. Deri even helped to establish the neighborhood watch association.
Every street has at least 10 synagogues, with hundreds scattered around the entire neighborhood – synagogues, yeshivas and seminaries. Most are open the night after the attack, with lights on in every room and young people milling around the entrances.
Is there a sense of fear in the neighborhood, I ask Yoni Kornblit, 26, a law student who teaches and studies at a yeshiva.
"Like everywhere else in the country," he says. Are you seeking retribution, I ask. "No, we don't seek retribution. The Holy One blessed be He is our avenger."
According to Tsur, "This is a neighborhood that would condemn calls for revenge or cries of 'Death to the Arabs.' If you hear someone shouting like that here, you can be sure he's not a resident of the neighborhood, that he's here because of the incident and is looking for opportunities to fire up the street.
But here, it won't work for him here. Here, even if you enter the neighborhood in a car on the Sabbath, no one will throw stones at you. At most, someone will stop you and explain that you've taken a wrong turn and will give you directions to find your way out."
Now, the entire neighborhood appears to have gathered in Agassi Street, nearby the synagogue, among the police cars and Magen David Adom ambulances that are still there.
"Many people were drawn here by curiosity," Tsur says. "The secular Jews have televisions, the Internet, smartphones; they can keep themselves updated. Young people who live in Mea She'arim and want to know what happened here need to come here. Obviously, not everyone comes – it's mostly those who don't have much to do, who are looking for an opportunity to escape, to get out a little."
Since the establishment of the Har Nof Guard, the number of burglaries in the neighborhood has dropped by about 90 percent; and the volunteers patrol the streets at night, proving, according to Tsur and Fodor, that "the deterrence works."
And who funds the expenses?
"Apart from their initial investment, people pay NIS 18 per month. They don't have to; only if they want," Tsur says, noting that volunteers from the association visit homes, explain the importance of the neighborhood watch, and get the message out through the local newspaper too. Currently, of the 4,000 families in the neighborhood, several hundred donate money on a regular basis.