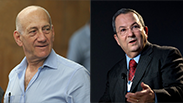 Olmert vs. Barak
Photo: Motti Kimchi
Attorney-General Yehuda Weinstein instructed the police on Sunday night to collect testimony from former prime minister Ehud Olmert on accusations he made that his predecessor Ehud Barak allegedly took bribes while serving as defense minister.

At present, only Olmert's testimony will be collecting, following which the attorney-general will decide how to proceed.

New recordings unveiled earlier this month revealed that Olmert told his former aide Shula Zaken that Barak accepted bribes worth "millions and tens of millions" of shekels in an arms deal.

"He took a bribe of millions and tens of millions. That insane man, he will end up in prison," Olmert tells Zaken in the recording, speaking of Barak.

In the conversation, which took place in the summer of 2011, Olmert claimed Barak accepted a bribe of millions in an arms deals that he was involved in.

"You know Barak asked for the Audi A8? You know why?" Olmert is heard asking Zaken in the recording. "Because I have an Audi. Just because of his jealously that I drive an Audi A8, that insane man wanted it. But he will end up in prison. Remember what I'm telling you Shula…" Olmert tells Zaken.

Later on in the conversation, Olmert is heard saying, "He took a bribe worth millions and tens of millions. There is no arms deal that Israel makes. Everyone is talking about it, everybody, everybody is talking about it…"

Zaken is heard asking Olmert in the conversation, "Where is the money?" to which Olmert responds, "He is hiding it…in Switzerland or in some lawyer's office. He transfers it to a company in which Barak's name does not appear."

Following the release of the recording, Barak's office said in response: "This is a completely baseless lie being spread for years by a criminal, who has since been convicted, out of interests any intelligent person can understand. The head of the Mossad, the only one whose name is mentioned as a source, has already vehemently denied it. If Olmert has any additional information, he may turn to the police without haste. This applies to any of his other sources, should they exist."