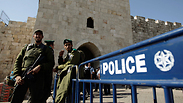 Border Police at Jerusalem's Old City
Photo: Reuters
A 45-year-old yeshiva teacher arrived at a police station in Jerusalem's Old City on Monday evening with stab wounds to his abdomen. The man, who was moderately wounded, said he had been stabbed by Arabs.
An initial investigation found that three haredim from the Breslov Hasidic yeshiva (Jewish seminary) Shuvu Banim were attacked by several Arabs, during which the man had been stabbed. Police is investigating whether this was a brawl or a terrorist attack.
Magen David Adom paramedics called to the police station evacuated the man to the Shaare Zedek Medical Center in Jerusalem. Another man, 32 years old, was taken to Shaare Zedek in light condition with wounds to his neck and a fracture in his hand.
After searching the area, police arrested three suspects from East Jerusalem and took them in for questioning.
Police spokesman Micky Rosenfeld said the incident was being regarded as a terrorist attack.
Israel is in the midst of its worst sustained bout of violence in nearly a decade. Eleven Israelis have been killed in Palestinian attacks over the past month, including five people who were killed in a assault on a Jerusalem synagogue last week.
Attacks have been mostly in Jerusalem but also in Tel Aviv and the West Bank.
Yaron Kelner, Tazpit News Agency and The Associated Press contributed to this report.