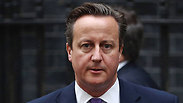 Prime Minister David Cameron of Britain.
Photo: Getty Images
Britain is undertaking a second review of arms export licenses to Israel to ensure equipment could not be used in a way that would breach international law, the government said on Monday.

The government has already conducted one such review, in August, in response to the Jewish state's conflict with Hamas in Gaza after which it said it would suspend 12 licenses to export military items to Israel if hostilities resumed.

It said on Monday it was conducting another review a day after Israeli forces shot dead a Palestinian in the Gaza Strip near the border with Israel, the first such fatality since a 50-day war ended in August.

"To ensure that new information is taken into account, and in light of the fact that a ceasefire has been in place for more than two months, ministers decided earlier this month to carry out a further review," a government spokeswoman said in a statement.

The earlier August review had found that the "vast majority" of exports licensed for Israel were not for items that could be used by Israeli forces in Gaza, she added.

A report by a British parliamentary committee in July found outstanding government-approved contracts for export of dual use or military goods to Israel worth more than 7.8 billion pounds (12.3 billion US dollar). These included contracts to supply body armor, drone components, and missile parts.

The lobby group the Campaign Against Arms Trade published an analysis of government data on Monday which showed Britain had approved military licences to Israel worth 7 million pounds in the six months leading up to the war in Gaza.

The government said it did not dispute the figure.