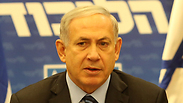 Prime Minister Netanyahu says he is intent on passing Nationality Law.
Photo: Gil Yohanan
The US weighed in on Israel's controversial 'Nationality Law' proposal on Monday night, warning Israel against straying from its democratic principles.

"This is the beginning of a process, and so I don't want to speculate on the outcome. It would be our general view…that we would expect any final legislation to continue Israel's commitment to democratic principles," said State Department spokesman Jeff Rathke.

"The United State's position, which is unchanged, has been clear for years, and the president and the secretary have also reiterated it, is that Israel is a Jewish and democratic state in which all citizens should enjoy equal rights," Rathke continued.

The Anti-Defamation League called the proposed legislation "well-meaning but unnecessary." The ADL's statement said it was a "troubling" development, and that the bill was a way to push an "extreme agenda" to favor Israel's Jewish character over its democratic one.

The Prime Minister's office responded to the comments, saying that "The remarks do not contradict the goal of the Nationality Law which Netanyahu has been promoting."

The PMO said the goal of the bill was to "protect the values of the State of Israel as a Jewish and democratic state against those who challenge the right of the Jewish nation to their homeland."

"In order to clearly specify the law, it was written in the principles of the bill that Israel is the national home to the Jewish people and that the State of Israel is a democratic state based on freedom, justice, and equality as envisioned by the prophets of Israel and maintains the rights of all citizens under the law," a PMO statement said.

A day after a cabinet vote on the contentious bill to define Israel as the nation-state of the Jewish people disintegrated into a shouting match between party leaders, the coalition decided on Monday to postpone the Knesset-wide vote planned for Wednesday.

Justice Minister Tzipi Livni warned Monday that the bill in its current form would not pass, and trying to force it could destroy the coalition. The bill, if passed, would result in a new basic law defining Israel as the nation-state of the Jewish people. Its critics, who include the attorney general, claim that the bill is redundant at best and anti-democratic and discriminatory at worst.

Trying to keep his coalition alive, a beleaguered Prime Minister Benjamin Netanyahu is drafting a new watered-down version of the bill, after two of the main factions of the coalition - Livni's Hatnua and Finance Minister Yair Lapid's Yesh Atid - announced Sunday night that they would not support it.

"I'm determined to pass the bill, with or without agreement," Netanyahu said of the Nationality Law during the weekly Likud faction meeting. "I'm willing to give discussion a chance, it's better, but I'm determined to pass the law."