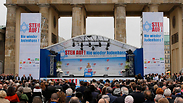 A rally against anti-Semitism in Berlin.
Photo: Reuters
A 22-year-old Israeli said he was attacked in Berlin on Sunday by four Muslims who saw him leave a synagoue in the German capital's Charlottenburg neighborhood. The man was treated at a local hospital and will return to Israel to receive further medical treatment for his wounds.

The attack took place at around 6:30pm on Sunday in Berlin's Wilmersdorf neighborhood.

"Right after I left, four people suddenly jumped me and cursed me in German with an Arab accent. They beat and kicked me," said the victim.

"They really had murder in their eyes. I was in shock. Some passersby came to help and they simply ran away, otherwise I don't know how it would have ended," he said.

Hospital tests revealed the victim had fractures in his fingers, and dried bruises on his legs and hands. "My lips are blown up and I have a black eye," he said.

"I have no doubt they attacked me because I looked Jewish or Israeli to them," he added.

The Israeli met with the Head of Consul of the Israeli embassy in Berlin, Eyal Siso, who encouraged to him to file an official complaint with the police, who announced an investigation into the event and into whether there were nationalistic motives behind the attack.

The young Israeli was looking into the option of moving to Berlin because of the economic situation in Israel, after he decided against a similar move to France because of the rise of anti-Semitism in the country.

"I did not believe that this was the situation in Berlin, but even though I was attacked, it will not prevent me from living here. I'm not scared of this nonsense," the Israeli said.