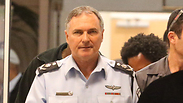 Police Commissioner Danino
Photo: Motti Kimchi
Israel's chief of police, Commissioner Yohanan Danino, criticized Tuesday the Attorney General Yehuda Weinstein's decision to allow right-wing officials, including MK Moshe Feiglin, to visit the Temple Mount.

"It was a mistake to allow him to visit the Temple Mount," he said at conference in Sderot. "We have seen and identified, since the last election, radical right-wing elements which have made a priority out of changing the status quo on the Temple Mount. To them we say – stay away from the Temple Mount."

Responding to the wave of violence sweeping over Jerusalem, Danino said, "We have recommended indictments against families of terrorists who publicly incite to violence in interviews."

He said it was Israel Police's duty to "assure we are safeguarding the rights of everyone. The incitement set fire to this area. There has been an unequivocal position by the Israeli government since 1967 that there is no intention to change the status quo."

The police commissioner emphasized his forces would follow the directive and warned that radical right-wing elements are upsetting the balance in Jerusalem. "It's clear that all the declarations to change the law and the status have no practical implications – but the very declaration sets off shockwaves in the Muslim world."

At the beginning of the month – as security concerns continued to mount – Prime Minister Benjamin Netanyahu called on members of Knesset to work to calm tensions over the Temple Mount and demonstrate restraint and responsibility.

"We resist systemic, ongoing attempts at incitement by radical Islamists trying to set off a religious war in Jerusalem, and help light the entire Middle East," Netanyahu said at a cabinet session on the issue.

The following day – only a short while before Netanyahu's remarks were published – MK Feiglin visited the holy site and rejected the condemnations of his actions.