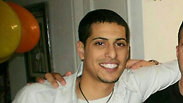 Netanel Roi Arami
Courtesy of the family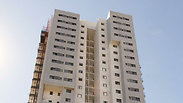 Scene of death
Photo: Ido Erez
The police have informed the family of Netanel Roi Arami, a 26-year-old Israeli construction worker who fell to his death in September, that their son was probably killed, it was cleared for publication Wednesday morning.

Arami owned a construction company contracted to do exterior work on a hi-rise building in central Israel. During the fatal day in mid September, Arami was rappelling along the side of the Petah Tikvah building in order to seal vent openings when both his cables snapped and he fell 11 stories to his death.




The police first said his death was an accident, while his family maintained otherwise, now it has been cleared for publication that the family has been right all along.

The Petah Tivka court further cleared for publication that the Shin Bet had arrested three suspects for their role in his murder, now openly being investigated as a terror attack, but were eventually released.

Related stories:

"This was not a work related accident, Netanel was a professional," his family said at the time, and now it seems the police could agree.


Over 50 workers were at the site of the time, the majority of which are Israel-Arabs and Palestinians, as well as a few Chinese nationals, but none have been arrested. The workers, for their part, claim his death was an accident.

At the end of September it was cleared for publication that the police were also investigating the nationalistic angle of the case, but fell short of admitting that the murder was such an attack.

Hours afterwards, his parents held a press conference and said: "My son was murdered because he was Jewish, there's no other reason," said Miriam, his mother.

Netanel's father, Rabbi Uziel Arami, also spoke at the press conference, saying his son was "not a private victim. He's a public victim that belongs to all Israelis. We see what's happening out there - one time it's an attack with a truck and another time with a tractor. Stones are thrown at kindergartens and there's graffiti in support of Hamas and ISIS. We don't want another victim like Netanel. I'm asking for the truth to be set free, and for things to not be covered up."

Choking on tears and struggling to speak, Netanel's widow, Muriya, turned to the gathered reporters and asked: "My son is two years old and asking me where dad is. What do you tell a child that age? I tell him that dad's watching over us from the sky."

Muriya, who is pregnant, said her late husband "had no enemies and he was loved by all. He was a full time father, an amazing husband, dedicated, who did everything. I don't know how my children could grow up without a father."

During the investigation all were quested about their whereabouts and if they know anything about the suspected murder or who was behind it. Their stories were crosschecked and none were arrested. The police say the investigation continues and all investigation leads are being followed.

Hamudi, one of the workers who was at the site at the time, told Ynet that "we are all friends here, we don't differentiate between Jews and Arabs, we're all the same. I'm sure it's a work accident.

According to an initial investigation, Arami left his home in Moshav Ahiezer, said goodbye to his pregnant wife and two children and proceeded to the site. There, he and a group of other rappellers worked on the side of the building, sealing the air ducts of the building's security rooms.

The team had finished, but Arami was still working. The crew worked their way down and waited in the car for his arrival.

When he failed to show up they began to search for him and were horrified to see he was no longer on the building. A few minutes of additional searches led them to his lifeless body.