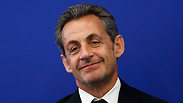 Former French Presidetn Nicholas Sarkozy
Photo: Reuters
Former French president Nicholas Sarkozy urged members of his party to vote against a new resolution which would see France join a string of European nations in symbolically recognizing a Palestinian state.

Speaking to members of his UMP part this Tuesday, Sarkozy said "I will fight for the Palestinians to have their state. But unilateral recognition a few days after a deadly attack and when there is no peace process? No!"AFP reported.

Sarkozy also said it was "the fight of my life" to support a movement that would "call into question the security of Israel."

Sarkozy came out of a two-year political retirement when he announced in September he would seek to be elected chief of the Union for a Popular Movement (UMP) party on Nov. 29.
Recognition wave
The European Union on Tuesday decided to postpone to next month a vote on a resolution recognizing a Palestinian state over disagreements on the wording of the motion. Instead of the vote scheduled for Thursday, the European parliament will only debate the motion this week and vote on it December 18.

Prime Minister Benjamin Netanyahu warned on Tuesday that a European recognition of a Palestinian state was "a big mistake for peace."

"I think these European positions actually push peace away, and I believe that they make reaching a solution much harder," he continued.

"It encourages the Palestinians to harden their positions, not to compromise on mutual recognition, not to compromise on the things that are needed to achieve genuine security."

Israel has been working to foil the decision, with officials warning that if the motion passes, the country will view Europe's decision as anti-Israeli. Israel's ambassador to the European Union David Walzer and members of his delegation held urgent meetings recently with the parties' political advisers. The ambassador also held an urgent briefing meeting with dozens of members of the European Parliament.

Left-wing parties who proposed the motion - the European United Left/Nordic Green Left (GUE) and the Progressive Alliance of Socialists and Democrats - believe such recognition could help lead to a peace accord with Israel.

On the other hand, the European People's Party, a center-right party which requested the postponement, wants to condition recognition of Palestine on first reaching a two-state solution through peace talks with Israel.

"The right-wing parties, who represent a majority in the European parliament, wanted a wording similar to the Spanish decision, which reads that recognition will be declared after Palestinians and Israelis reach a peace agreement," PA official Nabil Shaath told Palestinian news agency Ma'an.

The move comes on the heels of Sweden's decision to recognize Palestine and symbolic votes on the topic in Spain, Britain and Ireland. It reflect mounting frustration in the EU at Israel's expanding settlement program on land the Palestinians want for a state following the collapse of US-sponsored peace talks.

Reports received by the Israeli Foreign Minister indicate similar votes on recognition of a Palestinian state are expected in other European parliaments in coming weeks, among them Portugal, Italy and Slovenia.

A senior Foreign Ministry official said that "this is an avalanche" and that Israel does not have a lot of tools to deal with such a wave because of the freeze in diplomatic talks.

Israeli officials, including government ministers, accuse US President Barack Obama's administration of fanning the flames.

Itamar Eichner and Reuters contributed to this report