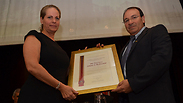 הענקת אזרחות כבוד ל ברונית רוטשילד עיריית ראשון לציון
Photo: City of Rishon Lezion
Rishon Lezion Mayor Dov Tzur granted honorary citizenship to Baroness Ariane de Rothschild, wife of the legendary philanthropist's great-grandson, on Wednesday.

Over 130 years after Baron Rothschild saved Rishon Lezion, then a farming settlement, from destruction and invested in its economy, the township has become the fourth largest city in Israel.

"This is an emotional moment for me," said the baroness. "During my visit in the Rishon Lezion museum, I was struck by two things that drove the baron and the founders – will and determination. That is: when there's a will, there's a way; and together they found the way and build this wonderful city.

"Israel is today also in a place where it needs to find its way." She commented on relations between the Rothschild family and Israel, saying that "there are ups and downs, but they're continuing, and that's the important thing."

"The heart of the historic city in Rishon Lezion serves as clear evidence of the determination of the founders' generation determination to accomplish that what the Jewish people have yearned for over millennia – creating a Jewish national home in the land of Israel," said the mayor.

He said that the founders of the town sought no charity, but rather "tools for building a nation: a Hebrew language, a Hebrew culture, Hebrew work, and the baron gave them these tools because he understood the needs of the Jewish people its future in Israel."