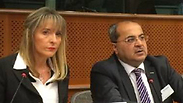 MK Ahmed Tibi at the European Parliament with Federica Mogherini
Frustrated by deadlock in the Middle East peace process, a growing number of European leaders and lawmakers are calling for unilateral recognition of a Palestinian state.

That movement took a step forward Wednesday as members of the European Parliament began debating whether they can agree on a common approach for the European Union's 28 member states.

Recognition of a country is a decision for national governments. But EU foreign policy chief Federica Mogherini told lawmakers meeting in Strasbourg, France that the bloc needs to forge "a united and strong message" to influence events.

The ultimate goal, Mogherini said, is creation of an independent Palestinian state and securing Israel's right to live in "security, safety and peace." She said one cannot happen without the other.

On October 30, Sweden's government became the first Western European nation in the EU to recognize Palestinian statehood. Since then, lawmakers in Britain, Spain and Ireland have approved non-binding motions urging recognition. French legislators are scheduled to debate a similar measure on Friday.

The trend in favor of recognition has aroused both alarm and approval in Israel. Prime Minister Benjamin Netanyahu on Tuesday warned that it would encourage the Palestinians to "harden their positions" and make peace harder to achieve.

Other Israelis said the Europeans' actions, and the snowball effect they might have, could force their country back to the negotiating table with the Palestinians for substantive talks.

"Without European pressure, nothing here will budge," said Alon Liel, a former director of Israel's Foreign Ministry.

Germany, Israel's closest European ally and the EU's most powerful member, is a leading opponent of recognizing Palestinian statehood before Israel does. To do so, German officials say, would do more harm than good.

Chancellor Angela Merkel said Friday it was better to focus on getting Israel-Palestinian talks going again, although "that appears very difficult in the current conditions." She added that "we also believe that unilateral recognition of the Palestinian state won't move us forward."

The British Parliament's motion in favor of recognition was adopted 274-12 with support from both major parties, though Prime Minister David Cameron and other government leaders abstained. Lawmakers said they hoped the vote would help kick-start the peace process.

Jeremy Corbyn, a Labour member of Parliament who helped introduce the recognition measure, said there had been a "sea change in opinion" in Europe caused by the Israeli military campaign in Gaza this summer.

"It was so brutal and so televised," said Corbyn. "I think Netanyahu has spectacularly badly handled relations with most other governments and certainly with the UN."

Without debate, Ireland's upper legislative chamber adopted its resolution after Sen. Averil Power of the center-right Fianna Fail party called for a clear sign of support for the Palestinian people "in the aftermath of Israel's latest assault on Gaza."

In Wednesday's debate, European Parliament members appeared sharply divided on what policy to endorse. One lawmaker branded Israel "a state of child killers and land robbers," while another likened a Palestinian state to the Islamic State militant group.

A vote, originally expected Thursday, was put off until December.

Mogherini, who took office November 1, has said she hopes there will be a Palestinian state within five years. Her first trip as the EU's top diplomat was to Israel, Gaza and the West Bank.

The European Union, Israel's top trading partner and the No. 1 donor to the Palestinian Authority, can be the "first political player" in the region as well, she told the European Parliament.

Rosa Balfour, director for the Europe in the World program at the European Policy Center, a Brussels-based think tank, said Mogherini, a former Italian foreign minister, appears to have made a personal commitment to trying to achieve an Israeli-Palestinian peace deal.

"Both she and the EU see that conflict as being at the heart of European foreign policy," said Balfour.