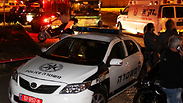 Archive
Photo: Avi Muallem
A police officer was hit by a car in Komemiyut Street in Bat Yam, just south of Tel Aviv, while attempting to pull over a suspected pedophile, who was with a 17-year-old boy in the car at the time of the attempted arrest.
According to MDA paramedics, the office sustained moderate wounds. The incident is being investigated as a criminal event and the driver, a 54-year-old man, has been apprehended following a long police chase. According to the police, the driver was pulled over and the boy was taken out of the car before the driver attempted to flee and the chase began.
After hitting the officer, the driver fled the scene and massive police forces are still in his wake. At some point, a driver was stopped near Rishon LeZion, but was then released; gun shots were fired as part of the manhunt. Roughly an hour and a half later the real driver was arrested.
The officer, a 19-year-old woman, was taken to a local hospital. Police stress the incident is criminally – not nationalistically – motivated.
MDA paramedic told Ynet that when he arrived he saw the young officer on the ground with wounds to her legs. "People were very upset and they said she was hit by a car that passed by the area. I gave her first aid and then she was taken to the hospital."
Last month a police officer motorcyclist was moderately wounded during a chase when his bike swerved off the road.