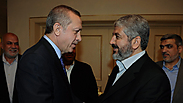 Khaled Mashal wth Tayyip Erdoğan
Photo: AP
Turkey denied on Friday the claim that Hamas planned terrorist attacks from headquarters in Istanbul. The Shin Bet made the accusation on Thursday, setting off a diplomatic face-off between Israel and Turkey. Turkish sources argued that the Shin Bet's announcement was meant to demonize Turkey and sabotage attempts to mend the countries' diplomatic ties.

Israel requested NATO and the American government to take steps against Turkey in response. "It's illogical for a NATO member to host a terrorist organization that trains and plans terror attacks on its soil," said the Israeli statement.

Turkish diplomats were enraged by Israel's allegations, calling them "lies and deception".

"It never happened," the diplomats said. "There are elements in Israel who are trying to torpedo the attempts to smooth things out between the two countries and turn a new leaf. They are telling lies, as though Hamas operates in Turkey with the government's knowledge. Turkey has a dialogue with Hamas, but will absolutely not allow any terror organization to operate on its soil."

Minister of Strategic Affairs Yuval Steinitz said on Thursday that Israel expected the US and NATO to pressure on Turkey to immediately dismantle Hamas infrastructure in the country and to cease turning a blind eye to its presence.

"This is a very worrying and serious development," Steinitz said. "We did not expect this. Turkey is a NATO member that fights terror. Hamas is a terror organization, so this is a very serious issue."

Defense Minister Moshe Ya'alon complained in an October meeting with the outgoing American Secretary of Defense Chuck Hagel in October that "Turkey is playing a cynical game. Hamas is supported by Turkey and Qatar. Hamas has two terrorist headquarters, one in Gaza and the other in Istanbul."