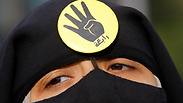 Pro-Morsi Islamist protester (Archive)
Photo: AP
Two senior Egyptian army officers were killed early Friday morning as security forces arrested more than 100 Islamists ahead of planned anti-government demonstrations.

The officers were killed in separate shooting incidents by unidentified assailants in Cairo; two army conscripts were also injured. One officer was a brigadier general killed when gunmen opened fire in a parking garage before fleeing the scene, the state news agency MENA said, citing an army statement. Interior Ministry spokesman Hani Abdel-Latif said seven bombs were dismantled around the country.

The Islamists' call for nationwide rallies to topple the government and in defense of their religion is their first attempt in months to hold large protests in the face of an overwhelming crackdown since the military's ouster last year of Islamist President Mohammed Morsi.

Security forces, which earlier vowed to use "lethal force," have responded with a massive lockdown since dawn. Armored vehicles deployed across the city while cement blocks sealed off roads leading to security headquarters, the presidential palace and the Ministry of Defense.




TV networks carried live footage of Egyptian Prime Minister Ibrahim Mahlab chairing an operations room inside the Cabinet to follow up on developments.

While previous demonstrations by Morsi supporters have played down their Islamist nature - focusing instead on opposing the coup against Morsi and restoring Egyptian democracy - the calls for Friday's protests have featured an overtly religious tone. The ultraconservative Salafi group organizing the rallies has warned of a war against Islam and urged protesters to raise Qurans in the air. The theme of the demonstration is "Muslim Youth Uprising."

The Salafi Front posted instructions Friday on its Facebook page, listing the names of mosques as gathering points and asking supporters to chant "God is Great" immediately after the end of prayers.

Morsi's Muslim Brotherhood group supported the protest call but warned its supporters against being dragged into a violent confrontation.

"There are credible news and reports about heinous plots by intelligence agencies, police and their paid thugs to commit massacres against revolutionary protesters and the Egyptian people at large," the group said in a statement. "We call on all anti-coup protesters to give the criminals no opportunity to use violence or spill Egyptian blood."