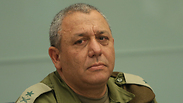 Gadi Eizenkot
Photo: Alex Kolomoisky
In about two months, Maj.-Gen. Gadi Eizenkot will be raised to the rank of lieutenant general at the age of 54 and become the second Golani-bred IDF chief of staff, after Gabi Ashkenazi. Those close to him describe him as an expert on the northern border, a cool and calculated officer, one who will strike hard and fast - but only if he has to.

Eizenkot is not one to hesitate to speak his mind, even if it could brand him as an oppositioner. He managed his military career at his own pace, even when he waived the military chief position to Benny Gantz in the last appointment. "He did everything with his own two hands," his friend, Brig.-Gen. (res.) Giora Inbar says of Eizenkot.

Eizenkot was born in Tiberias and raised in Eilat. He's married and a father of five, currently residing in Herzliya. He enlisted in the IDF in 1978 and joined the Golani Brigade. During the 1982 Lebanon War he served as a young officer and got to experience the Lebanese quicksand up close when he was commanding troops in operations that got all the way to Beirut.

"As a young officer, Gadi was calculated. Quiet and modest, he spoke to everyone at eye level, never cut corners, quickly assessed the situation and inspired confidence in everyone around him," Maj.-Gen. (res.) Gabi Ofir says of Eizenkot. "As the Judea and Samaria Division Commander, he excelled in quiet leadership; he understood his objectives and tasks well."

Those close to Eizenkot say he's a realist and a modest man, not just in character but also in the military objectives he sought in the campaigns in which he participated as a senior officer. For him, delaying the next round of fighting, both in the north and south, for as long as possible, was top priority in the absence of any far-reaching diplomatic arrangements that would prevent them altogether.

In his interim period between the GOC Northern Command position and the appointment as the deputy IDF chief, Eizenkot pushed for deep-reaching operations; and as chief of staff he is expected to continue this policy of missions far from the borders of the state, to stop Hezbollah and Hamas from obtaining advanced weaponry.

"Gadi is one of the excellent commanders coming out of Golani," says Maj.-Gen. (res.) Ilan Biran, who, as the Golani brigade commander, worked alongside Eizenkot and who a decade later appointed Eizenkot to the commander of the Efraim brigade that secures the Qalqilyah and Tulkarm area.

"After the Oslo Accords, as the GOC Central Command, I was looking for a brigade commander who knew how to handle a complicated and complex area - on the one hand there were the settlers and on the other hand militant cities like Tulkarm and Qalqilyah. Eizenkot showed qualities of a model brigade commander, he showed common sense, restraint, unusual responsibility and creativity. He managed to avoid unnecessary conflicts and controlled these cities successfully in what was an extremely delicate task."

Brig.-Gen. (res.) Immanuel Hert, who served, among other roles, as the Golani Brigade commander, has much praise his friend: "Eizenkot is genuine, modest man who never dealt with PR. He's not connected to journalists or businessmen. He's very dedicated to his family and to his close friends."

Eizenkot and Hert first met in 1982. "I asked him to return to the brigade," Hert tells Ynet. "He said he wanted time off to study, spend with his family and to rest a little. He went through a difficult time as a company commander in the first Lebanon War."

Eizenkot is expected to be appointed chief of staff at the age of 54, not particularly young compared to his predecessors, but Hert believes this is actually a very young age. "When I was chief of the IDF commanders' school, I told the students that General Schwarzkopf (who led all coalition forces in the Gulf War), whose rank was the same as a GOC, was much older than 54 and led an exemplary war. The officers under Eizenkot's command will treat his age with respect because he's a man with experience - he's well-known and accepted by all."
Rehabilitating the Northern Command
Eizenkot served in a variety of combat and command roles in the Golani Brigade's Battalion 51, its anti-tank company, as the commander of Battalion 13, the brigade's deputy G3 and the deputy brigade commander. After commanding a reserve brigade and the Efraim brigade in Samaria in the mid-90s, he returned to Golani as a brigade commander in 1997. He also served in a key position during the withdrawal from southern Lebanon in 2000, when he was Military Secretary to then prime minister and defense minister Ehud Barak, and coordinated the withdrawal between the military brass and political echelon. "His work as the Military Secretary helped bring to maturity the cooperation between the political ranks and security establishments like the Shin Bet and Mossad," Biran explains.

Yaakov Kissos, who went to high school with Eizenkot in Eilat, says Eizenkot's friends joined the Navy while he only wanted to be a soldier. "Like us, in high school he was studying naval mechanics, but he insisted at the IDF's recruitment office not to join the Navy, but to be a ground soldier in Golani. He surprised us with his choice, but he was determined and was dying to join Golani. I remember him as a serious guy, he wasn't unruly and out surfing all the time, like the rest of us."

Lt.-Col. Yossi Shevka, who was also a friend of Eizenkot's in high school and was photographed with Eizenkot at the IDF's recruitment office, adds: "Gadi made the entire city of Eilat proud, his success is very exciting for us."

Eizenkot spent most of his military years on the northern border. For some of these years he was hard at work rehabilitating the Northern Command after the 2006 Second Lebanon War. To accomplish that, he was given a five-year period of grace, during which each of the command's divisions returned to their former strength.

Eizenkot's policy in those days was to launch quick and aggressive assaults at Hezbollah strongholds in dozens of Shiite villages in southern Lebanon, which had turned into military bases for the terror organization.

A cool and level-headed officer, Eizenkot was a proponent of the military's approach in Operation Protective Edge not to oust Hamas or retake the Gaza Strip. He took the same approach in different times in which the IDF was not sufficiently prepared for a long war, in the summer of 2006 in his first role as a major general, a rank he has held for the past nine years.
Loyal, but not afraid to criticize
Eizenkot served as the head of the IDF's Operations Directorate during the Second Lebanon War. He was among the very few who urged then-chief of staff Dan Halutz to call up reserve forces at the beginning of the war, to no avail. With that, Eizenkot turned into one of Halutz's "naysayers," but despite his stance, he remained loyal to his role and his commander and kept his criticism to discussions within the General Staff's top brass.

Even though he supported the destruction of Beirut's Dahieh suburb as an act of deterrence, Eizenkot was considered moderate during the war itself. He urged the IDF command not to launch unnecessary operations that would endanger the troops, and was the first to call for a plan to end the war in the midst of fighting.




It wasn't just during the Second Lebanon War that Eizenkot displayed a calculated and level-headed approach. In the short period of time in which he served as former prime minister Ariel Sharon's Military Secretary, he recommended a unilateral ceasefire in the midst of the conflict with the Palestinians, saying such a move could win Israel favor with the international community.

As a commander of a reserve division, Eizenkot barred troops from indiscriminately shooting at Palestinians trying to cross the Gaza border into Israel. Two years later, when he was appointed by then-chief of staff Moshe Ya'alon as chief of the Judea and Samaria Division - a critical division for the IDF at the time - Eizenkot was one of the leaders of the "lawn mowing" approach in the West Bank to defeat Palestinian terrorism: Around-the-clock non-stop arrests of terror operatives, a strong intelligence grasp of the area and the speeding up of construction on the separation wall. This led to a halt in suicide attacks and to near-total calm at the end of the uprising in 2005.
The Harpaz document
Ya'alon will soon recommend to the government on the appointment of Eizenkot as the 21st IDF chief of staff, after the latter underwent procedural legal approval, along with the other candidate for the job, former deputy IDF chief Maj.-Gen. Yair Naveh.

The soon-to-be chief of staff also had minor involvement in the embarrassing Harpaz document affair, but he was cleared of criminal involvement. He was rebuked by the State Comptroller for the fact he knew of the fake document, had it in his possession, and passed it on to his friend Gabi Siboni (who passed it on to Channel 2). This involvement, alongside the allegation he wasn't at first forthright about the fact he was exposed to the document, could delay and perhaps even derail his appointment, but the chances of that happening are low. An opinion by Attorney-General Yehuda Weinstein, who also went through the failed appointment of Yoav Galant as army chief, is meant to pave the way for Eizenkot's appointment.

"No one is more worthy of this role than he is at this time," Eizenkot's friend Brig.-Gen. Giora Inbar says. "Gadi is an honest man, who is not afraid to speak his mind in public, and will always say what he thinks and act according to what he sees as right. He's not burdened by dignity, ego, interests or politics. In many opportunities and in very sensitive roles he always stood his ground and voiced his opinion even when it was clearly against that of his commanders, even if his commander was the defense minister or the GOC. He always knew how to stand his ground in a respectful manner and without impudence and was willing to pay a personal price if needed over his opinions. The long journey he's had prepares him more than anything to be chief of staff."

In the wake of public criticism over ostentatious tendencies among Israel's top echelons, Inbar notes that Eizenkot's "modesty and lack of desire to always stand out and harshly criticize others turn him, at this time, to a chief of staff who can command the army of the people. I want to remind you he was asked to run for chief of staff before Gantz was appointed, and he was respectable enough to tell the army and defense minister, 'Let Benny Gantz be chief of staff before me, he's more ready.' He was raised in a very modest house and did everything with his own two hands. He doesn't live in mansions and is not connected to anyone. He has always been professional, modest and decent."