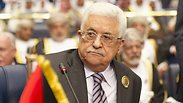 Abbas speaking at an Arab League meeting
Photo: Reuters
CAIRO - Arab League foreign ministers agreed on Saturday to formally present a draft resolution to the United Nations Security Council that will set a timeframe for the creation of a Palestinian state.

The ministers set up a committee comprised of Kuwait, Mauritania, Jordan and Arab League chief Nabil al-Araby to begin seeking international backing for the resolution, they said in their closing statement.

The statement did not specify when the resolution would be presented but diplomatic sources have said Jordan, an Arab member in the Security Council, could present the draft within days.

In October, the Palestinians informally shared a draft resolution with Arab states and some council members, calling for an Israeli withdrawal from East Jerusalem and the West Bank by November 2016.

The text was not formally circulated to the full 15-nation Security Council, a move that can only be done by a council member. It was unclear at the time if it would be put to a vote.

Arab states have already given their blessings to the idea of presenting a resolution to the Security Council but had yet to agree a finalized draft and set a date to present it.

Speaking at the opening of an Arab League session in Cairo, Palestinian President Mahmoud Abbas said the resolution would be discussed "in order to deliver it to the Security Council."

Abbas determined that "the American mediation has failed" and threatened to "stop the security coordination with Israel if real negotiations don't take place."

The Palestinian president said he was "willing to recognize the State of Israel, but under no circumstance willing to recognize a Jewish state."

He went on to say that he demanded US Secretary of State John Kerry "to formulate a resolution draft to the UN Security Council that will press Israel to stop settlement construction."

Arab League chief Nabil al-Araby appeared to suggest that the final draft would be endorsed and sent to a vote.

"It is natural that Palestine is heading to the UN Security Council to issue a resolution setting a deadline for ending the occupation," he said.

Palestinians seek statehood in the West Bank and Gaza Strip with East Jerusalem as their capital - lands captured by Israel in the 1967 Six-Day War.

Israel accepts the idea of a "two-state solution" of an independent and democratic Palestinian state living alongside Israel, but has not accepted the 1967 borders as the basis for final negotiations, citing security and other concerns.

The latest round of efforts to forge a two-state solution collapsed in April and relations between the two sides have worsened since a 50-day war between Israel and Hamas militants in the Gaza Strip this summer. Palestinians have since said they see little choice but to push unilaterally for statehood.

Diplomats have said that France, Britain and Germany are preparing a separate text to end the conflict, which could be accelerated if the Palestinian draft is put forward.

France warned on Friday it would recognize a Palestinian state if a final international effort to overcome the impasse between Israelis and Palestinians failed.

French parliamentarians will hold a symbolic vote on December 2 on whether the French government should recognize Palestine as a state, after similar moves in Sweden, Britain, Ireland and Spain.

Elior Levy contributed to this report.