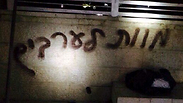 Slogan scrawled on wall
Photo: Arik Abulof, Jerusalem Fire Brigade
Firefighting teams were dispatched on Saturday to the Hebrew-Arab bilingual school in Jerusalem after a fire broke out in the building. The blaze was located in the premises of the preschool. After extinguishing the fire, the firefighters found anti-Arab slogans including "Death to Arabs", "Kahane was right" and other phrases against Israeli-Arab coexistence nearby.
Firefighter Arik Abulof said that four firefighting teams arrived at the scene after receiving a report about a fire in the school building. "We spotted thick smoke inside the entire structure. After extinguishing the fire, (the firefighters) found graffiti outside a classroom." Abulof said that the slogans included: "No to assimilation", "There's no coexisting with cancer", and "Kahane was right."

Shaanan Street, lead singer of popular Israeli hip hop band Hadag Nahash, whose children go to the school, expressed hope that "whoever did this act would be caught and pay for their actions."
Shuli Dichter, director of Hand in Hand, an Israeli organization that founded five bilingual schools in Israel, including the school in Jerusalem, said in response: "This is not the first act of harassment against the school and our establishment of civil partnership. Even if they manage to dirty the walls, they won't be able to destroy our project."
"In addition to a harsh condemnation and calls of support, we invite all of the Israeli public to join us in building civil partnership between Arabs and Jews in Israel. We will continue to develop our educational and social establishment in which 1,200 students learn every day, along with 200 teachers and thousands of family members of students who are involved," Dichter added.
Hatem Matar, chairperson of the school's Parent's Committee said that in contrast to previous incidents, this time the arson was carried out within the school's premises, and caused the burning down of an entire first grade classroom.
"This act of arson was carried out by abominable creatures. We will open the school as usual tomorrow; we already arranged an alternative classroom. We will explain to the children what happened, come to school and support them. This incident can only benefit for the good, because every time people try to drag us down to negative places, we only grow stronger," Matar added.
Education Minister Shai Piron said that incident was a "violent, criminal and despicable act that could harm and undermine the foundations of Israeli democracy. The fact that the arson took place in an educational institution that promotes coexistence constitutes a harsh blow to the fabric of relations between Jews and Arabs. The incident is particularly serious considering that the criminals chose to target the soft underbelly of Israeli society, in a preschool where innocent children learn."
Piron called on the Israeli police to act immediately in order to "bring the despicable criminals to justice."
Shahar Hay contributed to this report.