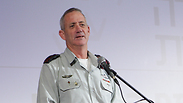 Lt.-Gen. Benny Gantz
Photo: Liron Bozgelo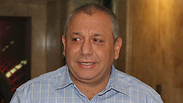 IDF's next chief of staff: Gadi Eizenkot
Photo: Shaul Golan
Lt.-Gen. Benny Gantz commented Sunday morning on the announcement that Maj.-Gen. Gadi Eisenkot will succeed him as the IDF's next chief of staff.

"I am happy a decision was reached, and even more pleased at the way the IDF's senior officers conducted themselves without incident in a respectable manner," Gantz said, alluding to his own nomination process, which was rife with scandal.

Gantz was chosen to replace former IDF chief of staff Gabi Ashkenazi only after a long scandal, called the Harpaz affair, in which another general, Yoav Galant, was first chosen to the top spot only to have is nomination rescinded. Eizenkot's played a role in the affair but was cleared of wrongdoing by the police.

Speaking to reporters Sunday morning, Gantz said the "issue of who will be the IDF's 21st chief of staff in the future has come to an end. There were talks with two other excellent officers… we will continue our work and make sure to give both the next IDF chief of staff and his deputy the time they need to do their job. I wish everyone the best of luck."
Bad blood
The Hapraz affair was named for Lieutenant Colonel Boaz Harpaz, a reservist officer and ally of then-IDF chief Ashkenazi. According to suspicions, Harpaz forged a letter purporting to be from the office of then-defense minister Ehud Barak, which claimed to show how Ashkenazi was plotting a smear campaign against Galant's bid to become the chief of staff.

Barak backed Galant's nomination and Ashkenazi preferred Eizenkot; the ensuing behind-the-scenes battle casts a shadow over in the current race and ended a number of promising careers. The idea behind the letter was to shame Barak and his nominee. Galant's appointment was nullified after reports he had built parts of his house without attaining proper permits.

Related stories:

Eisenkot, Netanyahu and current Chief of Staff Benny Gantz agreed to appoint Major-General Yair Golan to become deputy chief of staff.

On Thursday, Ya'alon presented Eisenkot with the following text on the screen of his smart phone on a helicopter ride back from a memorial service for first Israeli Prime Minister David Ben-Gurion: "We intend to announce that you have been chosen to be the next chief of staff."

Eisenkot reacted with a big smile.

After a tight race with former deputy chief of staff Major General Yair Naveh, Eisenkot is expected to replace current Chief of Staff Benny Gantz on February 15, 2015.

For Naveh, Eizenkot's appointment marked a disappointing loss. Naveh had served as a project manager in the IDF for the past 18 months and is expected to finally retire from his service.

Eisenkot is not one to hesitate to speak his mind, even if it could brand him as an oppositioner. He managed his military career at his own pace, even when he waived the military chief position to Benny Gantz in the last appointment. "He did everything with his own two hands," his friend, Brig.-Gen. (res.) Giora Inbar says of Eizenkot.

Eisenkot was born in Tiberias and raised in Eilat. He's married and a father of five, currently residing in Herzliya. He enlisted in the IDF in 1978 and joined the Golani Brigade. During the 1982 Lebanon War he served as a young officer and got to experience the Lebanese quicksand up close when he was commanding troops in operations that got all the way to Beirut.

Netanyahu said of the appointment that "Major-General Eisenkot was chosen from an excelled group of generals to lead the IDF against the complex security challenges that the State of Israel faces. In the name of the citizens of Israel, I wish him good luck."

Ya'alon said, "The choice was between excellent, worthy and experienced candidates. I believe that Major-General Gadi Eisenkot is the right person as this time to lead the IDF in the coming years. I have known Major-General Eisenkot for many years, and he brings professionalism, a high level of command and leadership, and great skill, responsibility and judgment."