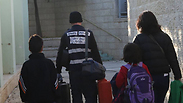 Entrance of bilingual Hebrew-Arabic school in J'lem
Photo: Gil Yohanan
On Sunday morning, a day after suspected arsonists set fire to a bilingual Hebrew-Arabic school in Jerusalem, police officers and forensic personnel were seen walking the grounds, searching for clues as to who was behind the fire. At the same time, teachers gathered for a staff meeting to discuss Saturday's events while students made their way to the school, accompanied by worried parents.
"I hope your school gets shut down today," a driver passing by the school shouted.
"We feel terrible, this is a low point. No words can describe it. We're depressed," said a father of a student living in Abu Tor, a mixed Jewish and Arab neighborhood in Jerusalem. "We talked about how the class was completely burned down and that bad people attacked the school."
Michal Pahima, the mother of a first grade student, expressed concern and noted that "children shouldn't have to deal with politics. This is an issue for grownups," she said, adding that she is "afraid it will hurt the coexistence."
More than 600 pupils attend Hand in Hand. From pre-school to high school, its student population is divided equally between Jews and Arabs. There are four other such schools in the Hand to Hand network in Israel.
Firefighting teams were dispatched on Saturday evening to the Max Rayne Hand in Hand School in Jerusalem after a fire broke out in the building, causing the burning down of an entire first grade classroom.
After extinguishing the fire, the firefighters found anti-Arab slogans including "Death to Arabs", "Kahane was right" and other phrases against Israeli-Arab coexistence nearby.
An initial investigation suggested that the fire resulted from intentional ignition inside the school grounds. Police believe that the arsonists entered the school through the back gate and took advantage of construction work being conducted at the site, which allowed them to freely enter the compound.
They walked up the stairs, passed a metal partition and entered the classroom terrace, where they sprayed the hateful graffiti. Later they went inside and used flammable material to set it alight.
About 150 members of the Tag Meir coalition, an organization against hate crimes, held a support rally at the school on Sunday. Hatam Matar, a father of a student at the school, stressed that "until now this happened outside the school, and yesterday, red lines were crossed. The school and the students are the highest priority, and no harm should come to them. Yesterday I showed the pictures to my daughters and they feel a great heaviness inside."
Justice Minister Tzipi Livni also visited the school and said that "the students here are friends with each other. This is a human nature reserve and there are those who try to burn it down. I shall protect with all my might those who want to live here in coexistence and act decisively against those who act against the law and who turn racism in the Israeli society to violence."
In July, a Palestinian youth was burned to death by Jewish attackers, allegedly in revenge for the killing of three Israeli teens by Palestinian militants in the occupied West Bank in June.
A 50-day war that began in July between Israel and Hamas militants in the Gaza Strip resulted in the deaths of more than 2,100 Palestinians, many of them civilians, as well as 67 Israeli soldiers and six civilians on the Israeli side.
Tensions have also risen in past weeks over access to a Jerusalem holy site where al-Aqsa mosque now stands and Biblical Jewish Temples once stood. Attacks carried out by Palestinians have killed 11 Israelis, and 12 Palestinians have also been killed, including several of the assailants.
Prime Minister Benjamin Netanyahu condemned the arson at the school. "We are making great efforts to restore peace and quiet to Jerusalem," he said at a cabinet meeting.
At the school, Brian Callan, a father of one of the children whose class was burnt, accused the government of "encouraging, inciting and legitimising this behaviour through populist, racist legislation".
Netanyahu has been criticised for promoting a new bill that would decree Israel as the homeland of the Jewish people only, a step critics say will further alienate the country's Arab minority.
Reuters contributed to this report.